Today's article is an interview with Aaron B. Duke, one of the most prominent interior designers in Los Angeles, whose work has created some of the most beautiful homes in Southern California and elsewhere.  In addition, he is an out-and-proud gay male entrepreneur, with plenty of advice for young gay men (or others) who want to know how to get established in running their own business.  Similar to my previous article on "making your house a home", and how our home surroundings (however modest, or opulent) affect our mood and outlook, Aaron's advice serves as an inspirational "blueprint" gay men everywhere can follow to overcome systematic oppression of LGBT people and achieve their dreams:
Tell me about how you got started as an interior designer.  What was your journey like as a budding professional?  Did you always have the knack, or was this something you learned in school or in apprenticeship? 
Growing up, I wasn't someone who knew what they wanted to be or do with their life.  In fact, when I graduated from high school, I told my parents to save the money for college.  I spent three summers touring the world as a performing member with the 17-time Drum Corps International (DCI) Blue Devils Drum and Bugle Corps from Concord, California (www.bluedevils.org).  I went on to teach several successful nationally competitive high school marching bands and color guards.  During this time, I learned more about who I was and what I wanted to do.
When I was 24, I signed up for a couple of interior design classes.  On the first day, I learned interior design was much more than I had ever thought it was.  My professor, Rod Reed, explained that interior designers created every space that impacts our lives – from our homes, offices, hospitals, churches, restaurants, hotels, retail shops, and so much more.  He also explained the psychological and physiological effects that interior design has on us.  It was this moment, that I knew, this is what I wanted to do with my life for two reasons: 1) It allowed me to be a creative person and design aesthetically-pleasing environments; and 2) It allowed me to elevate and enhance people's lives.  I ended up moving back home with my parents. I enrolled in every class I could during every semester that was offered, and in three years, I graduated with my degree in interior design.
I grew up watching "Designing Women", and somehow thought that was what the field of interior design would be like once I graduated.  As my dear friend from college, Philip reminds me, "Some of us were born with the talent for interior design, and others had to go to school to get it." (This is where he looks down his nose at me.)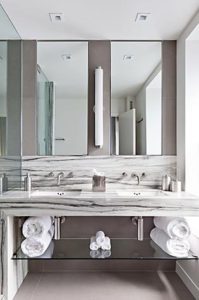 My second year of college, I began working with one Interior Design Magazine's Top 25 Hospitality Firms, ForrestPerkins (www.forrestperkins.com) which is known for designing luxury hotels around the world.  I was very fortunate to have this experience.  I was immediately thrust into the "real world" of interior design, and given the opportunity to work on a multitude of projects while gaining experience in every aspect of the design process: from creating presentations; selecting and specifying furnishings; creating construction documents; documenting the construction administration phases; working with contractors and consultants; to the final installation of projects.
After three years, I left to go work with international design authority, Ike Isenhour (www.ikeisenhour.com).  Together, we designed private residences and even a personal luxury jet for exclusive patrons in Dallas, New York City, Monaco, and Italy.  It was only the two of us, so I really got an education in being an entrepreneur and small business owner.  Coming from a firm of 50 people where there were separate departments that handled the day-to-day aspects of the business, I quickly learned we had to do all of that ourselves.  During my time with Ike, I not only gained an employer, but a mentor and friend.  We are still very connected today.
I had always had a dream of moving to California.  In 2011, my partner at the time was given a job opportunity in San Diego, California.  I left Ike Isenhour, and began a job as a Design Manager for Fairfield Residential (www.fairfieldresidential.com), a luxury multi-family developer where I oversaw the design and development of new construction and remodeling of apartment homes and condos across the United States.
In 2013, the relationship ended, and I saw this as my opportunity to move to Los Angeles – where I had always wanted to be. I received the opportunity to work as a Project Manager for one of Architectural Digest's (www.architecturaldigest.com) AD 100 Designers, Rose Tarlow Designs (www.rosetarlow.com) where we designed residences for private clients around the world, which I am not allowed to disclose.  Just like therapists, discretion and confidentiality are important qualities in designers because high-end clients value their privacy very highly.  You see and hear a lot, and you have to just keep mum so that they really trust you, and recommend you to their friends.  There is a kind of intimacy to the design relationship, because a person's home is their private sanctuary if they lead a very public life.  I think their home and their therapist's office are the two places they can really let their hair down, so we serve people in similar ways!
Each one of these jobs taught me so much about design, running a business, and about the type of business and employer I want to be in my own firm. For me, my education and experience were (and are) the best learning tools.   While I always had a creative spirit in me, from piano lessons to community theatre, music, art, or dance, it was my education and seeking to learn from the 'best of the best' in interior design where I gained the most knowledge.
Interior designers (as well as "hairdressers") have historically been a stereotyped profession for gay men.  Why do think gay men make particularly good interior designers?  Is it genetic?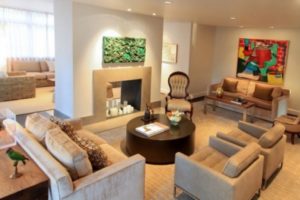 Well, I have a funny anecdote to this.  When I was 17 and came out to my family, my mother said to me, "I hope you are happy.  The only job you will ever be able to get is a hairdresser or florist."  I like to say, well, I certainly showed her; I became an interior designer! I still laugh at that today.
I think for many generations, gay men were not visibly public or out in other professions.  It isn't like it is today where we see professional athletes, actors, doctors, lawyers, therapists, and ad infinitum – that are openly gay.  Many of us didn't grow up with positive, gay-identified role models — but we realize that they have always been there.
For me, my childhood and adolescence were very lonely and isolated, but what that helped me cultivate my imagination; I could dream up anything.  It is a gift I still use today. Sometimes, I close my eyes and imagine a space with all the furniture, lighting, architectural details, how people are going to use the space, and what it might look like if they are hosting guests.  This process is deeply embedded into my creative process.  I often times feel I have lived in someone's home before they have.
In my experience, growing up as a young gay man, I was a very sensitive person.  I spent a lot of time listening, rather than talking.  This has been one of the keys that has made me so successful.  I spend time really listening and watching my clients to learn what they truly want.
That's another thing I think we have in common!  In an earlier blog post, I talked how a gay man's mood can be affected by his home surroundings.  What do think is the connection between how we feel, and the ambiance of how our home is designed and decorated?  Have you seen the "finished product" of your work have a mood-enhancing effect on people?
Whether it is our workspace or our home, it can definitely have an effect on our psychological well-being.  I think of myself as a visual storyteller, and I firmly believe our workspaces and homes should be a reflection of who we are and a sensory experience.
I believe Ralph Lauren says it best: "What I do is about living.  It is about living the best life you can and enjoying the fullness of life around you – from what you wear, to the way you live, to the way you love."
When we exercise, have a well-balanced diet, dress in what we feel we looks the best on us, and are living our lives the best we can – it definitely changes our outlook and perspective on life.  Our homes and workspaces should definitely be an integral part of creating that lifestyle we want to live.
Where we call home changes in our lives and evolves.  You might be living at home with family, renting a room from a friend or roommate, living alone in a home, condo, or apartment, or cohabitating with a partner.  I believe in each one of these opportunities, you have a chance to create your own space and tell your own story.  Whether I was living at home or renting a room from a friend, I made my bedroom my sacred space and my haven.  It was achieved rather simply by painting the walls, choosing bedding that reflected my style, and adding personal touches that had emotional and sentimental meaning to me.
When I designed my own office, it had to be a place where I felt comfortable to work and to bring clients.  I knew I didn't want a sterile white box, with a white desk, and light swinging over-head – it had to have a home-like feel and reflect my personality.  I added window treatments for light control and energy efficiency. There is ample storage, so office supplies and samples are put away.  I layered a sisal rug with an antique Persian carpet.  The desk from Haworth (www.haworth.com) is hydraulic, so I can sit at the computer work or draw, and I can raise it when I want to stand and work. There are two lamps on the credenza behind my desk for ambient lighting. I brought art from my own collection from home to adorn the walls.  Sound and smell are very important factors in creating a working environment that is positive.  I have Jo Malone's (www.jomalone.com) Lime Basil & Mandarin room spray and candles.  I either prefer to work in silence or with classical music playing.  Finally, everyday, I take twenty minutes during my workday to put on a guided, mindfulness meditation.  It helps to clear my mind and focus, and I know it helps with healthy aging.
Yes!  I have a three-part blog article series on gay men and healthy aging!  It covers the emotional/physical, social/cultural, and domestic/financial.  I think we need to address all of these.  What's your take on aging well? 
Whether we want to embrace it or not, the fact is, we are all growing older.  'Aging in place' is a concept that I continue to educate myself and would love more opportunities to help others design their homes to plan ahead or help remodel and modify, if they find themselves needing a home that is more conducive to living. Most adults would prefer to 'age in place'—that is, remain in their home of choice as long as possible. In fact, 90 percent of adults over the age of 65 report that they would prefer to stay in their current residence as they age.  One-third of American households are home to one or more residents 60 years of age or older. (http://assets.aarp.org/rgcenter/il/beyond_50_communities.pdf)
Aging in place can be further defined by:
Aging in place without urgent needs: This group includes individuals who want to stay in their current home, are not experiencing immediate health/mobility issues, and prefer aging in place.
Aging in place with progressive condition-based needs: This group is made up of those with chronic or progressive conditions that will require special modifications for aging in place. These individuals are usually aware of their needs but meeting them is not necessarily urgent. Many have chronic conditions such as diabetes and lung/heart disease that challenge them.
Aging in place with traumatic change needs: This group includes those who experienced an abrupt or immediate change that demands adjustments in the living environment for aging in place such as home modifications or universal design.
In 2017, I am launching a non-profit with my friend, Shari Korn.  It is going to be focused on underserved and underfunded organizations in Los Angeles that serve the community.  We plan to call on the support of our industry partners and monetary donations from the public to enhance the way people work and live.  A lot of what I do is aspirational living.  I want to give hope to others, through interior design, that they can improve their lives and live their lives to the fullest.
You're a successful, self-employed entrepreneur, running his own business. In my practice, I do a lot of executive coaching, and also career coaching with young gay men who are just starting out, and they sometimes think after a long history of abuse or bullying that they don't have the self-confidence to run their own business as much as aggressive straight guys do.  What do you want to tell those guys about how you "made it"?  What are some "do's" and "don't's" for the Young Gay Male Entrepreneur?
Well, my advice falls into two categories: philosophical and pragmatic.
The Philosophical:
First and foremost, know who and what you are. Authenticity goes far in creating a successful entrepreneur and brand.  People are attracted to someone and something that is real.  What is your business going to be?  How will it enhance others' lives? Who is your ideal client? We all have a story or past that has shaped us and created us into the person we are today.  Don't hide from it.  Use it to propel you to being a better person and successful business owner.
Don't allow your sexual orientation to dictate your success or failure. We are no less nor no greater than our heterosexual counterparts.  Trust me, I suffered from low self-esteem from internalized homophobia for years. From an early age, I was taught ideals about myself that are not true.  I always felt I was not good enough, smart enough, talented enough, handsome enough, and I could go on and on – much of these stemmed from my own sexual identity.  This has been a double-edged sword for me.  It has helped me become quite successful; but after years, I have learned it simply isn't true.  Don't let the stories we have created in our heads shape your reality.
Next, sometimes you just have to make a leap of faith. If you have been sitting on the fence waiting to jump, just do it.  If you are going to wait until you are ready, you will be waiting a long time.
Yes!  I wrote an article on Gay Men's Success in Building a Business or Self-Employment: If You Build It, They Will Come.  Guys liked that one because I think it helped them get off the fence.  But once you're inspired, what's the pragmatic side you mentioned? 
The Pragmatic: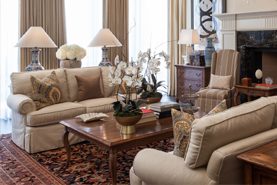 Now, for the more practical advice. Unless you are an expert in these fields, I suggest you seek out others.  My philosophy is to surround myself with the people who are the best at what they do and let them do it, but I still have my hands in every aspect of my business.
Seek an expert that can set up your business, whether it is a corporation, an LLC, or any of the other variances. They will be able to complete the appropriate paperwork for you and to file this with state and national agencies.
Create a business plan. You can have this done for you or take a class on creating a business plan.  Many colleges and universities offer this class and even have evening and weekend classes.
Have a logo designed and created that symbolizes you and your brand.
Invest in professional business cards. Even though we are in a digital age, having a professional business card to hand to someone still speaks volumes about you and your company, and keep them on you at all times.
Websites and social media are an huge part of our lives and in marketing of you and your company. I, personally, opted to have someone create my website and manage my Search Engine Optimization (SEO) for a nominal fee each month.  Remember:  What you put on social media speaks to who and what you are as a person and a brand.
Learn from your mistakes. You are going to make them.  If you decide to invest in a $20,000 marketing campaign that yields zero return on investment after a year, maybe that wasn't the right platform for you.
Learn to say, NO! Not every person that contacts you is going to be a client.  If there are red flags or the situation doesn't seem to be right, it is okay to gracefully decline to do business with this individual.  Learn to trust your gut.
Ask questions. Find others in your field or line of business that are willing to mentor you, or be there when you have a question or need advice.
Hire a financial planner. Going from employee to self-employed is a  major shift.  Things like taxes, health insurance, and 401-k that were taken care of by your employer now become your responsibility.  Find an expert that can guide you and advise you through this transition.
Self-care is sexy! You have to put your mental, emotional, physical, and spiritual well-being first.  I find it is helpful to plan my doctor appointments, yoga classes, dentist appointments, time with my partner, alone time, and the most important aspects of my life first. Everything else gets planned around those.  Make friends with your calendar.
If people want to learn more about your work, or hire you, what do they do?  How can they best prepare to be a "good client" for you?
If you are interested in learning more, visit my website (http://www.aaronbduke.com) and follow our blog (http://www.aaronbduke.com/interior-design-blog.html).
You can start by reading the client profile here:  (http://www.aaronbduke.com/interior-design-blog/129-interior-design-aaron-b-duke-s-client-profile.html) In every aspect of our lives, we seek out professionals who are experts in their fields. But as you know, it's not simply a service; it's a relationship. You're trusting them to help you build your dreams.  I think that's another thing we have in common, just in different fields.  Establishing that trust is everything. Ultimately, my client and I are creating a design partnership, and great things evolve from that.  Find me on social media at:
Facebook (https://www.facebook.com/aaronbduke/)
Twitter: (https://twitter.com/aaronbduke)
Instagram: (https://www.instagram.com/aaronbduke/)
Pinterest: (https://www.pinterest.com/aaronbduke/)
Thank you so much!  What's next for you?
I hope that someone reading this gets intrigued by that whole 'trust' thing, and is interested in forming working relationships with both of us.  Maybe if you help their inside mind and heart, I'll help their outside to have a fabulous home or office, which in turn makes their inside feel better, too.  I'd like to help take someone up to the next level.  I'm fascinated about who that might be!