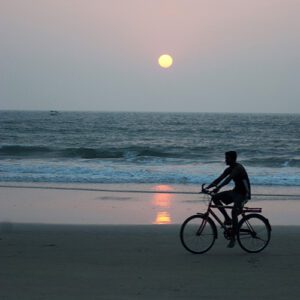 Therapy for gay men is like other forms of psychotherapy, but in what's called a "gay-affirmative" or LGBT-affirmative therapy cultural context.  I am now the most experienced gay men's specialist therapist in Southern California (and possibly the country) with over 26 years of experience working almost exclusively with gay men and gay male couples.  I've just made the choice to make this the focus and passion of my career, because I'd like to help you overcome problems and challenges, and see you thrive once again.  It's very rewarding to help guys lead happier lives as a result of your trust in me and our work together.  It's the passion of my life's work, and I have the confidence to say I'm good at it. 🙂
As gay men, we all grow up in an atmosphere that can be full of discrimination and extra challenges, just due to growing up in a homophobic society (Alan Downs' book, The Velvet Rage, talks about this).  When you have therapy with me, it's similar to what therapy with a mainstream clinician might be like, to help you with things like depression, anxiety, relationships, OCD, ADD, or any other "disorder", or life challenges like problems with your partner, your job, your family of origin, or your social life.  But we also look at how you can thrive and be happy as a gay man, whether you're single or partnered/married.  As a gay man myself, and also as a specialist/expert in gay-affirmative therapy, I know what makes therapy for gay men different from working with other client populations.  It's a specialization that takes years to master, because it has clinical and social components to it.  Sometimes, you just want a gay therapist who "gets it" already and understands you in more depth, without having to explain gay community cultural concepts that take time away from what you want help with.
Therapy is about YOU. I want to hear what's going on that I can help you with. Because of my experience, whatever you are going through now that is a challenge is a problem that I've probably helped many other guys with in the past.  When you work with me, you get the benefit of not only my training as a psychotherapist, and my experience working with the specialty area of gay men, but also as a gay man myself, I can especially "relate" in a way that no other straight therapist (however skilled, or well-meaning, or "gay-friendly" they are) just can't do. When I help you, I'm drawing on my skills in psychotherapy, my observance of how many other guys have solved problems just like yours, how I've solved my own problems as a gay man over many years, and how I've seen my friends and peers overcome their challenges.  It's a lot to put in context, and you get access to all that experience, directed toward helping you.
If you're curious about my background (which would make sense if I'm asking you to put your trust in me), here's a little of who I am, and what I feel makes me especially qualified to provide your therapy, even among other therapists you might consider in your search:
I was born and raised in the area of Washington, DC, in the 60's and 70's, an important historic time for civil rights and social progress.  Growing up among government monuments, buildings, and parks has inspired the "activist" part of me, and my passion for helping gay men as a form of social justice to help gay men lead thriving lives of happiness, health, and dignity, personally and professionally, throughout your life span at any age.  That inspiration is in part why I do what I do.
I've lived in Los Angeles since 1983, after going to UCLA undergrad, and I know it can be a tough place to live in — economically and socially. Since 1992, I have developed myself as a clinician, author, speaker, and professor as an expert in gay men's mental health, providing psychotherapy, counseling, and coaching to gay male individuals and couples.  I've also been successfully living with HIV since 1990, diagnosed when I was 26 years old, and I have been the Clinical Director of two AIDS service organizations in Los Angeles.  I'm the former Chair of the Los Angeles County HIV Mental Health Task Force.  So, I help guys with HIV concerns, but I also help them blend a combination of making yourself both physically and mentally healthy.  I study Healthy Aging, and I help guys of all ages live their best life for the age they currently are, and for the years ahead.  I apply Cognitive Therapy, Developmental Psychology, and Existential Psychology to help you define what "success" and "happiness" mean to you, and I help you work toward your goals to get it.  Surviving with HIV has given me a perspective to make the most of life, and to help others to do the same.
Professionally, I believe in only using therapy techniques that have been proven to work scientifically and academically, in what's called "evidence-based" practice.  I'm a part-time Adjunct Assistant Professor, teaching courses in psychotherapy theory, and also an LGBT course, for graduate Master of Social Work (MSW) students at USC.  I'm very tough about never providing you with "bullshit" therapy techniques that are like pop psychology or trendy methods that sound like crazy books or TV (which is why I don't use the "sex addiction" or "porn addiction" models, which are so popular these days with lesser-trained therapists) and I only use legitimate therapy models that have grounding in formal research.  Some of my colleagues who are a bit naive and new to the field can't make this same claim, and it's because they aren't trained properly in evidence-based psychotherapy techniques, especially when it comes to issues in sex therapy.  When you work with me, you can trust that you're working with someone experienced and not "green" just out of school.
Some guys want to know if I "walk my talk", and this is important to me.  There is the old fear that therapists who claim to help guys but they're really a mess themselves don't hold credibility.  I don't "hide" from my own community; I am boldly "out" as a gay man, and I can be seen on social media, apps, and at gay venues without shame.  But I hold very firm boundaries between my personal and professional lives, and this is because I live and work in the same gay community.  When I work with someone, I explain what these healthy boundaries are, to be in compliance with legal and ethical guidelines for specialty-population practices.  I'm not afraid to use stories and references to material from my own life, if I think it would help YOU solve the problems you have.  You're always free to ask me any questions you want, and I promise to give you a thoughtful answer.  I'm not one of those gay therapists who wouldn't be caught dead being seen in a gay bar, club, event, or at Pride; to me, that's internalized homophobia and shame that doesn't inspire your self-confidence.  But I also hold your confidentiality and privacy of the utmost importance because it can feel like a relatively small gay community.
I am legally married to my wonderful husband, together over 15 years. We were one of the first 18,000 same-sex couples to marry in California after it became legal in May, 2008, before Proposition 8 took effect. We live in West Hollywood with our pets. I live and work in an active, visible, social, and civic role in the LGBT community of Los Angeles and West Hollywood to "walk the walk" and "talk the talk" of my practice, empowering gay men to lead fuller lives — psychologically, professionally, emotionally, physically, sexually, politically, socially, and spiritually.
How to Start Being a Client

My job is to provide you with a private, safe, confidential space, at a time set aside just for you, with my undivided attention, where you can work toward goals in making life changes that are important to you, that would relieve you of burdens or improve your quality of life.
Many people think they have to really "need" therapy badly to come in; that's not true. Our work can begin whenever you WANT it to. There is really no such thing as people who "need" therapy versus people who don't. Everyone could benefit from knowing themselves better and setting goals to improve their life.
The most common technique I use is called Cognitive-Behavioral Therapy (CBT). This is a very interactive technique to change the way you think about yourself, which changes the way you feel, which changes your behaviors, which then changes your life in all kinds of positive ways. With some people, I also draw from a more casual "life coaching" approach, where you learn how to get more things done, deal with anger, manage your time, deal with drinking or using, make a budget, plan your career, feel better about yourself, or communicate better with others.
Other models of psychotherapy that I draw on from my training include Developmental Psychology, Existential Psychology, Positive Psychology, and Executive Coaching/Life Coaching, as appropriate for your individual situation. I am not an "old-school psychoanalyst", silent and passive; my style is active, verbal,  interactive, collaborative, and somewhat informal. That said, I help to empower YOU to do the primary work of changing your life for the better; so that your gains are your achievements to own, implement, and benefit from — for a lifetime — to last well beyond the time that your work with me concludes.
I deliberately keep my practice to a small, select group of guys to ensure that I provide you prompt accessibility to me and give individualized, specialized attention to each client on my limited caseload, including occasional help via phone call or text message between sessions, as needed.
I continuously improve my skills by taking professional development courses, self-improvement, and other training.  I conduct ongoing research in my specialty areas, reading academic journals and articles, attending local and national conferences, and investing in paid consulting, coaching, workshops, and accredited Continuing Education to keep my skills current and sharp to help with your specific issues with the latest data in the field. I provide customized, individualized Plans of Treatment for each of my clients, based on your needs and goals.
I am accessible to my clients via email, texts, and phone calls promptly between sessions (up to 15 minutes) free of charge, to ensure continuity of care and accessibility to you.
This focused, "boutique"-style of service, along with my specialization and extensive experience that bring additional value to your therapy/coaching sessions with me, are why my fees are somewhat higher than newcomers to the field who "accept insurance" through HMO insurance panels, or charge low fees just to get themselves established in a crowded market.  I appreciate that therapy requires a significant financial investment for anyone who undertakes it.  You are not only paying for my time at your sessions, but also for the extensive overhead costs required for therapists to offer services in a private practice office setting.  You benefit from having access to my many years of experience and perspective, helping others just like you.  Hopefully, you find the investment in yourself, quality of life, future, and the VALUE your therapy brings to your life is worth any "budget-prioritizing" you might need to do to make private therapy possible.
However, if cost is a concern to you, I offer a discount on certain off-peak session times of the day in my schedule (subject to availability). I also offer a discount for "email exchange" consulting services (coaching only).  Phone and webcam sessions are also available.  Please ask for details.