Schedule a Gay Therapy Session

How To Get Started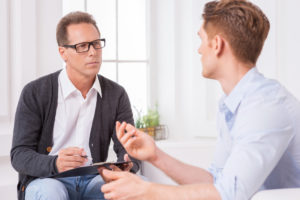 Schedule a Gay Therapy Session Today. Sessions are 45-50 minutes in length, and I recommend that we meet once per week, on the same day and time each week, so you keep the momentum going to reach the goals you set for yourself.  If money is VERY tight, it is possible to meet every-other-week, but I think this slows down your momentum in treatment. Your rights are protected by my full compliance with the laws of the State of California and with the Codes of Ethics as a member of the California Board of Behavioral Sciences, the National Association of Social Workers, the California Association of Marriage and Family Therapists, the American Association of Marriage & Family Therapists, the California Welfare & Institutions Code, and federal HIPAA laws.
Your Confidentiality is Assured
My office is sound-proofed for your privacy and confidentiality (except for certain legal emergency exceptions, which we can discuss), with lots of natural light. The restroom is just outside Suite 103, to the left. The key is in the waiting room on piece of white PVC pipe (for easy visibility!). Schedule a Gay Therapy Session Today.
Directions:
I'm conveniently located close to West Hollywood and Beverly Hills, at:
566 S. San Vicente, Suite 103
Los Angeles, CA  90048
Phone:  310-339-5778
Parking is on Lindenhurst (but just in front of the building, NOT in front of the houses, which is permit-only, 24/7) or on the small access road on the east side of San Vicente, which is one-way, going north, or one block north on Maryland Drive.
Suite 103 is inside the first floor lobby, in the back-right corner, past the stairs. Just have a seat in the waiting room and relax (don't knock on my door, please) and I will come get you.
I will send you an email with a link to my online registration/intake system (encoded and confidential) when I have your email address; please complete this registration/intake before you arrive for your first appointment.