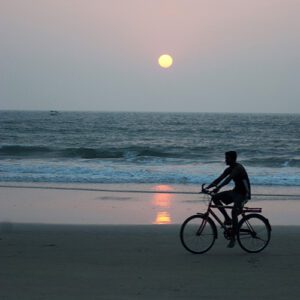 Have you ever wanted to talk with a therapist who is a gay man, just like you?  Feeling heard and supported by someone who is a licensed therapist (and life/career coach) who is not only "gay-friendly", but gay himself, can make a difference when you're facing problems, setbacks, frustrations, or disappointments in your life with professional individual therapy counseling for gay men.
I want to hear what's going on that I can help you with. But in order to earn your trust, you might want to know a little about my background, and what led me to be a specialist (for the past 24 years) in individual therapy for gay men and therapy for gay male couples.
I was born and raised in the area of Washington, DC, and I have lived in Los Angeles since 1983. Since 1992, I have developed myself as a clinician, author, speaker, and professor as an expert in gay men's mental health, providing LGBT-affirmative therapy.  I specialize in working with gay men, but I will also see lesbians, bisexuals, transgender people, intersex, or questioning people as well.
I have been successfully living with HIV since 1990, and am an HIV mental health expert and former Chair of the Los Angeles County HIV Mental Health Task Force.  While HIV is considered a medical issue, there are many emotional and psychosocial aspects to living successfully with HIV as well.
Personally speaking, I am legally married to a wonderful husband. We were one of the first 18,000 same-sex couples to marry in California after it became legal in May, 2008, before Proposition 8. We live in West Hollywood. I live and work in an active, visible, social, and civic role in the gay male community of Los Angeles and West Hollywood to "walk the walk" and "talk the talk" of my practice, empowering gay men to lead fuller lives — psychologically, professionally, emotionally, physically, sexually, politically, socially, and spiritually.  I'm not afraid to be out in my own community, with the vibrant diversity of gay life in West Hollywood.  While I always observe appropriate professional boundaries and strict confidentiality, I live in the same community that I serve professionally.  Many of my clients appreciate this aspect of our work, as it can make you feel heard and understood in more depth and cultural understanding than even the most "well-meaning" straight therapist, or even another gay therapist who isn't a long-term specialist in working with our community.
How to Enroll as a Client

My job is to provide you with a private, safe, confidential space, at a time set aside just for you, with my undivided attention, where you can work toward goals that are important to you and that would relieve you of burdens or improve your quality of life. Everything we talk about is strictly confidential, except for the most extreme legal situations (like if you were suicidal and a few others I could explain).
Individual Therapy Counseling for Gay Men
Many people think they have to really "need" therapy to come in; that's not really true. Our work can begin whenever you WANT it to. There is really no such thing as people who "need" therapy versus people who don't. Everyone could benefit from knowing themselves better and setting goals to improve their life, that's why Individual Therapy Counseling For Gay Men is so important..
The most common technique I use is called the cognitive-behavioral therapy (CBT) approach. This is a very interactive technique to change the way you think about yourself, which changes the way you feel, which changes your behaviors, which then changes your life in all kinds of positive ways. With some people, I also draw from a more casual "life coaching" approach, where you learn how to get more things done, deal with anger, manage your time, deal with drinking or using, make a budget, plan your career, feel better about yourself, or communicate better with others.
Other models of psychotherapy that I draw on from my training include Developmental Psychology, Existential Psychology, Positive Psychology, and Executive Coaching/Life Coaching, as appropriate for your individual situation. I am not an "old-school psychoanalyst", silent and passive; my style is active, verbal, interactive, collaborative, and somewhat informal. That said, I help to empower YOU to do the primary work of changing your life for the better; so that your gains are your achievements to own, implement, and benefit from — for a lifetime — to last well beyond the time that your work with me concludes.
I deliberately keep my practice small and "boutique-style", to ensure that I provide you prompt accessibility to me and give individualized, specialized attention to each client on my limited caseload.
My continuous involvement in professional development, self-improvement, and training adds value to the skills I offer you by conducting ongoing research in my specialty areas, reading academic journals and articles, attending local and national conferences, and investing in paid consulting, coaching, workshops, and accredited Continuing Education to keep my skills current and sharp to help with your specific issues with the latest data in the field. I provide customized, individualized Plans of Treatment for each of my clients, based on your needs and goals.
I am accessible to my clients via email and phone calls promptly between sessions (up to 15 minutes) free of charge, to ensure continuity of care and accessibility to you.
This focused, "boutique"-style of service, along with my specialization and extensive experience (over 22 years) that bring additional value to your therapy/coaching sessions with me, are why my fees are somewhat less flexible than newcomers to the field who "accept insurance" through HMO insurance panels, or charge low fees just to get established in a crowded market. I appreciate that individual therapy counseling for gay men requires a significant financial investment for anyone who undertakes it. You are not only paying for my time at your sessions, but also for the extensive and varied overhead costs required of therapists who offer services in a private practice office setting. You pay for the session time, but also for access to the benefit of many years of experience and perspective, helping others just like you. Hopefully, you find the investment in yourself, quality of life, future, and the VALUE your therapy brings to your life is worth any "budgetary re-arranging" and prioritizing you might need to do to make private therapy possible.
However, if cost is a concern to you, I offer a discount on certain off-peak session times of the day in my schedule (subject to availability). I also offer a discount for "email exchange" consulting services (coaching only). Phone sessions are available for local residents and residents throughout California (therapy and coaching), and for US/International clients (coaching only). Please ask for details on these individual therapy counseling for gay men programs.