Gay Couples Therapy/Gay Relationship Counseling
How does investing in couples counseling help with this?
While I specialize in my training, research, and experience helping gay male couples, I've also helped lesbian and straight couples achieve a more satisfying relationship by learning how to communicate better with each other, reducing the number or intensity of fights, having more or better sex, negotiating the details of spicing up a monogamous relationship or designing how it might work to have a satisfying and yet still "safe" open relationship, or dealing with other types of stress that impact a relationship.
Over all my years in practice, I've helped hundreds of couples stay together, work things out, and be happier.  Occasionally, I've had to help them break up amicably, but even then, the partners are still happier. It all depends on the circumstances of the work that we do.
I was born and raised in the area of Washington, DC, and I have lived in Los Angeles since 1983. Since 1992, I have developed myself as a clinician, author, speaker, professor, sex therapist, and coach, as an expert in gay men's mental health and well-being.  I specialize in working with gay men, but I will also see lesbians, bisexuals, transgender people, intersex, or questioning people as well.  I have a focus and a passion for helping gay men live their best quality of life as a clinician, coach, author, expert witness, consultant, researcher, advocate, and activist.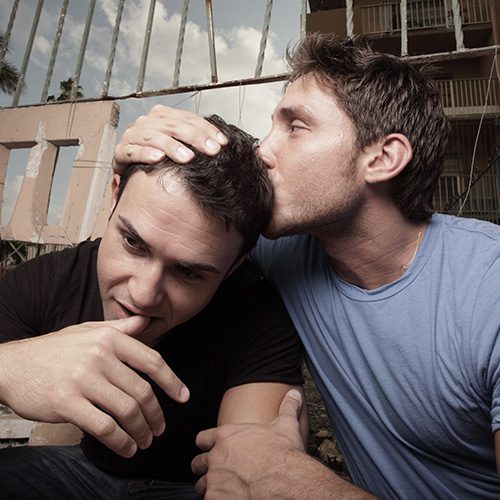 I have been successfully living with HIV since 1990, and am an HIV mental health expert and former Chair of the Los Angeles County HIV Mental Health Task Force.  While HIV is considered a medical issue, there are many emotional and psychosocial aspects to living successfully with HIV as well.
Personally speaking, I am legally married to a wonderful husband. We were one of the first 18,000 same-sex couples to marry in California after it became legal in May, 2008, before Proposition 8. We live in West Hollywood.  But I was also an adult and single for many years in the LA gay community, so I have the perspective that can help single gay men thrive, personally and professionally.  I live and work in an active, visible, social, and civic role in the gay male community of Los Angeles and West Hollywood to "walk the walk" and "talk the talk" of my practice, empowering gay men to lead fuller lives — psychologically, professionally, emotionally, physically, sexually, politically, socially, and spiritually.  I'm not afraid to be "out" and visible in my own community, with the vibrant diversity of gay life in West Hollywood.  While I always observe appropriate professional boundaries and strict confidentiality, I live in the same community that I serve professionally.  Many of my clients appreciate this aspect of our work, as it can make you feel heard and understood in more depth and cultural understanding than even the most "well-meaning" straight therapist, or even another gay therapist who isn't a long-term specialist in working with our community.
Get the help you need and deserve.
See how I can help. Call/Text (310) 339-5778 to schedule a no-charge, 15-minute phone consultation, or click on button below to complete contact form.