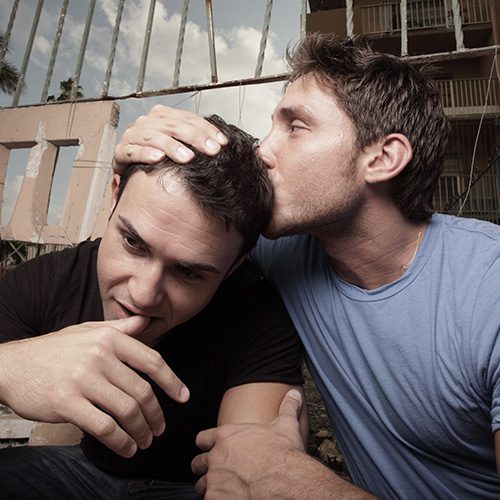 Maybe you are worried because you aren't as happy in your relationship as  you would like to be.
Maybe you are bored, scared, unsure, worried, or annoyed.
Maybe you're confused on whether "you" are the problem, or "he" is.  Or maybe the problem is, you don't know where or even what the problem is.
You could be worried about money and making a home domestically with the chores and stress of everyday life.
You could be frustrated that your sex life is not what you know you really want it to be.
Maybe you love your partner, but you're not that sexually satisfied with him.
Maybe there is a "third" involved — perhaps a person, but also perhaps an addiction, like alcohol or another substance, or problems with gambling, sex outside the relationship agreement, problems with spending money, anger, or not taking care of himself in other ways. 
Or maybe your partner just has some really bad habits.
Maybe there is someone else in your life who distracts you from the partner you "should" be paying attention to.
Maybe it's not that dramatic, but you know that you and your partner could be happier, "if only" you two were functioning better in one or more areas of your life together — communication, money, "balance", sex, chores, trust, jealousy, time, the in-laws, the pets, the friends, the house.
How does investing in couples counseling help with this?
Here's how:
While I specialize in my training, research, and experience helping gay male couples, I've also helped lesbian and straight couples achieve a more satisfying relationship by learning how to communicate better with each other, reducing the number or intensity of fights, having more or better sex, negotiating the details of spicing up a monogamous relationship or designing how it might work to have a satisfying and yet still "safe" open relationship, or dealing with other types of stress that impact a relationship.
Over all my years in practice, I've helped hundreds of couples stay together, work things out, and be happier.  Occasionally, I've had to help them break up amicably, but even then, the partners are still happier. It all depends on the circumstances of the work that we do.
I help couples improve the "skills of relationship" through gay men's relationship counseling, which include work on commitment, communication, and compromise, striving to improve "regard" for your partner and mutual respect. I help you both improve the ability to generate options to avoid stalemates and reach  compromises. By working with so many couples over the years, I've developed some observations about what these successful, happy couples in satisfying relationships have in common. Some of these findings might surprise you; I hope they inspire you.
We work together to see what needs to be done to make the burdens that you feel become lighter.  We use exercises to make you think and feel in ways that shed new light on your options.
I've had extensive training in the theory and practice of couples counseling, for all kinds of couples.
Plus, I've been in a happy and satisfying relationship for over 16 years, so I have some personal experience on what makes a happy gay relationship, at least for us. And I have the collective of experience of working with hundreds of couples in my practice over 27 years, and more examples from friends and colleagues. Those are all resources that can be put to work to help YOUR relationship improve, even if  you think your challenges are "unique".
If you would like an appointment for couples counseling, talk to your partner about how he would feel about doing it. Ask him what his schedule is like, and compare it to yours. Talk about how you might handle the fee–do you pay it out of your household account, split it equally, or divide it proportionately according each of your incomes? Then text or call 310-339-5778, or email me at Ken@GayTherapyLA.com.  I can usually schedule you within a few days of your call, or let you know the next available appointment. I look forward to speaking with you.
See how I can help. Text or call 310-339-5778 for more information on couples counseling for gay men or to schedule a no-charge, 15-minute phone consultation.