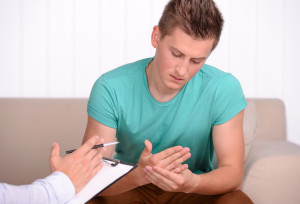 When you're a therapist in private practice, your work can feel isolating. Especially when you're working with an LGBT client who might be out of your usual experience.
Maybe you're working with a client from the LGBT community, and you're left with questions, concerns, or even dilemmas. You want to do your best work with each client, but there are "gaps" in understanding and approaching your client, and you'd like some help to do your best work, with the best possible clinical outcomes in your treatment of the client; LGBT case consultation can help.
When we talk about clients from the LGBT community, we might be tempted to think of four communities, one for each letter of the term, lesbian, gay, bisexual, and transgender.  But in addition to lesbians and gay men, we can see bisexual men, bisexual women, male-to-female transgender, and female-to-male transgender clients.  And there can be combinations within these, especially with couples.  In addition, there can be Questioning, Intersex clients who identify as male, and Intersex clients who identify as female.
In graduate school, even if we were taught a little about working with "LGBT" clients, we probably didn't get to THAT level of detail. There just isn't TIME in most graduate school clinical curricula, Master's or Doctorate programs.  As much as we try to be "culturally competent" with everyone, it's impossible to cover it all.  Whenever we work outside of our usual "niche market", it can be beneficial to seek out case consultation.  Even for therapists who specialize in work with the LGBT community, there aren't enough of those to cover every LGBT person (and the variations) who needs help in therapy.
But your work with an LGBT client might be giving you some concern now:
Maybe you're trying to understand an aspect of the LGBT community that you feel you just don't know enough about, but you hesitate to ask your client because you're afraid you would be imposing on them for their knowledge on "their dime" in session.
Maybe you're having countertransference feelings based on your own relationship history, upbringing, values, or religious/spiritual beliefs.
Maybe you're having countertransference due to being off-put by the sexual content your client is presenting, and it leaves you feeling uncertain on how to respond without shaming the client.
Maybe you just "don't get it" on why the client is behaving the way they do, and you want to understand more about the community for some hypothesis explanation.
Maybe you feel the client has sexualized their transference to you, and it throws you off or makes you distracted in trying to help him/her.
Maybe you feel appalled by the client's behavior, but before you act on intervening with them, you want some guidance on how the intervention might work out.
Maybe you'd like more information on LGBT community resources, and how your client could access them.
Maybe you'd like to discuss diagnosis or treatment interventions in a cultural context to discuss where the similarities and differences are between an LGBT client, and a straight one.
LGBT Case Consultation Can Help
I can help you to:
Feel less isolated in working with LGBT clients
Learn the proper terminology when working with transgender or non-binary gender clients
Clarify and bring nuance to a psychosocial assessment
Develop culturally-appropriate treatment plans
Deliver evidence-based treatment interventions in a cultural context
Avoid accidentally saying the "wrong thing" culturally in your interventions
Dispel common myths about working with LGBT clients
Manage countertransference on sensitive points in therapy
Fill in the gaps of your knowledge about nuances of LGBT history and community
Process and interpret client transference – positive or negative
Troubleshoot tough clinical decisions and ethical issues
 Inform you about culturally-appropriate local and online LGBT resources
Clarify diagnosis in a cultural context
Learn about HIV, HAART, PrEP, PEP, TasP and other terms that are actually a part of everyday gay male life in some way
Learn how to help your client manage a sero-discordant relationship (one poz, one neg)
Learn how to help LGBT couples who must manage differences in a relationship (age, race/ethnicity, national origin, income level, educational level, geography, sexual interests)
Build rapport and navigate the straight therapist and LGBT client "gap"
Learn how to identify and apply LGBT-affirmative therapy, and help clients who have been harmed by unethical and ineffective SOCE (Sexual Orientation Change Efforts, or "reparative therapy") in the past
I also offer career coaching and professional development for therapists, including coaching for your private practice.
In addition, I offer "therapy for therapists"; contract supervision for MFT Interns or Social Work Associates for agencies, hospitals, organizations, and community clinics; and consulting for social service organizations or corporations on LGBT or HIV Diversity Issues.
But Maybe You Still Have Questions or Concerns…
What do you provide that my graduate training and licensure didn't already give me?
In short, specificity. Unless you have made working with the LGBT community in therapy your particular area of long-time expertise and focus, you're probably missing some important details in cultural competency that your LGBT client will expect you to know. They might experience you as judgmental (even though you swear you aren't), ignorant of the culture (language, slang, dynamics, shared experience, values, priorities), unempathic, and ultimately ineffective, even when you are trying your best according to what you were taught in graduate school and supervised with.
Because I have been working as a therapist (and life/career coach) almost exclusively and continuously with gay men, gay male couples, and other in the LGBT community for over 23 years, I can offer you consultation that brings that specificity you need to intervene with your client effectively, to enhance the likelihood of good clinical outcomes by the end of treatment.
But doesn't spending money on LGBT case consultation undermine what I'm earning with the client's fees in the first place? 
I can see how you might think that!  Yes, you have to balance the income you're receiving from all clients against the overhead of doing business, and consultation is a line item of overhead expense for any private practitioner.  But I see it as an investment in your overall skill set as a therapist, making you more effective with one client community in a way that will help your treatment of the original client you want help with, and of course similar clients who come along in the future with similar issues.  Gradually increasing your ease and skill in working with LGBT clients will help you be the "go-to" therapist for LGBT clients in your area, when LGBT clients are under-served in many communities.  Just like learning a new treatment model or earning an advanced training credential, your skill set as a therapist in private practice is ever-increasing.  By investing in LGBT case consultation, you "protect" your work with your LGBT clients, and preserve the treatment relationship effectively, ideally until its natural termination.  Without proper LGBT case consultation, you might make errors that could even subtly undermine rapport and provoke premature termination of the client.
Why should I choose you over other local LGBT-specialty therapists in the community who do this work?
Because I offer certain things no other therapist in the Los Angeles area currently can claim.  I am or I offer:
Specialist (almost exclusively) working with gay men and gay male couples for over 27 years, and other members of the LGBT community's many variations
Currently on the faculty of the USC School of Social Work, graduate MSW program, teaching advanced courses in clinical practice and psychotherapy theory
Fully Licensed in California as a Licensed Clinical Social Worker (LCSW), #LCS18290 (since 1997), not an intern or associate.  Many of the LGBT-identified therapists in the community are relatively new associates/interns, due to only recent LGBT-affirmative curricula in local graduate school programs.
Graduate of rigorous, major academic institutions, UCLA (BA) and USC (MSW)
Personally identify as gay.  Married and in a long-term, sero-discordant, same-sex relationship for over 17 years, and experience with dating/relationship rewards and challenges in the gay community of Los Angeles/West Hollywood for many years before that
Active in the same gay male community in which I work, drawing from the example of many gay or LGBT friends
Living with HIV/AIDS myself for over 28 years
Over 20 years experience as a clinical field instructor (UCLA, USC, Cal State Long Beach) in local non-profit organizations, or clinical supervisor of an extensive intern/associate training program in private practice
Next Steps
Feel free to call me for a free question-and-answer about LGBT case consultation services. You can tell me about situation, and ask questions about my services. The consultation session runs for 50 minutes and is a flat $250, not reimbursable by insurance but still deductible on your taxes as business consulting.  There are no minimums; you can have one consultation session or many.
See how I can help. Call/text 310-339-5778 to schedule a no-charge, 15-minute phone consultation.