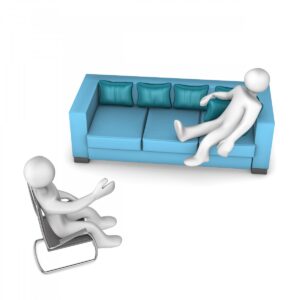 What is your professional background?

Therapy or counseling is an investment in your life, health, relationships, career, family, and future.
I run a small, boutique-style practice as a specialist in working almost exclusively with gay men, as individuals or gay male couples, starting in 1992. I'm also HIV-positive (since 1990).  I sometimes see other adults, such as straight women, lesbians, and straight men, non-binary, and trans folx. But LGBT in general and gay-affirmative therapy in particular has been my specialty in my clinical work, research, writing, speaking, and teaching (for a number of years, I was an Adjunct Associate Professor at the Suzanne Dworak-Peck School of Social Work at USC, part-time, teaching advanced courses in evidence-based clinical practice, couples therapy, and LGBT Psycho-Social-Political Issues in their graduate MSW program).  I also provide organizational and media consulting, and expert witness services.
What do you offer that other therapists don't? 
Currently, as the most experienced gay men's specialist therapist in the United States, I am sought after for this long and deep experience by clients in Southern California (Los Angeles/West Hollywood) but also from all over the United States and abroad. I'm also an AASECT Certified Sex Therapist, which is the national credentialing body for sex therapists in the United States.
I offer you an in-depth knowledge of gay men's mental health and well-being that even the most well-meaning straight therapist cannot provide.  Even other gay male therapists who are generalists who work with everyone don't have my specific expertise in working almost exclusively with gay men and gay male couples, or my long experience in doing this work full-time for decades.  Plus, being a gay man myself, I "walk my talk" of living in the gay male community.  I'm also in a long-term relationship (since 2002) with my husband; we were one of the first 18,000 same-sex couples to be married in California in 2008.  And for those living with or concerned about HIV, I have been living successfully with HIV, healthy and active, since 1990.  I am proud that I live in the same community in which I work.  I "get you" in a depth of gay men's cultural understanding that other therapists can't offer in the same way.
What insurance plans do you take?
Because of this experience and specialization, I work on a private-hire basis only.  I'm not an in-network provider with any of the discount health insurance "HMO"/managed care plans, and I don't bill insurance plans directly.  You simply pay your session fee at the time of each session (usually through a secured, encrypted credit, debit, or Health Savings Account card online on my billing software, SimplePractice, or via cash/check (for in-office sessions), Venmo, PayPal, Zelle, etc.).  I provided you with a completed claim form (called a "superbill") for you to submit to your health insurance plan to seek reimbursement as long as you have a PPO plan with "out-of-network provider" benefits and a reasonable annual out-0f-network deductible.
Speak with your health plan's customer service representative (at the number on your health plan membership card) if you're not sure if you have an HMO or a PPO plan, or whether they cover "out-of-network providers" for "outpatient psychotherapy".  I bill under the universal code for one hour of outpatient psychotherapy, which is code 90837 (90847 for couples) (90837-95 or 90847-95 for remote sessions online).  You might also ask if you have a deductible to meet for the calendar year, which is the amount you are responsible for, before your insurance benefits apply.  If you are budgeting for your therapy, we might have to have a session and you submit a claim form before your insurance will reveal how much they will actually reimburse you.  Usually, they will not reveal the actual dollar amount they reimburse you before you submit a live claim, but they might give you an estimate, such as "50 percent of average fees for your geographic area".  However, they will not reveal what they consider the "average" or "reasonable and customary" fee until you submit an actual claim; they consider this information their corporate intellectual property or a "trade secret."  After they process your claim, I will work with you and discuss your situation and do my best to make something work for us.
What is your session fee?
My session fee is $270 for individuals and $290 for couples (50 minutes).  Longer sessions, upon request, are available at prorated rates.  You can have sessions at whatever frequency your schedule and budget allow (usually, it's one session, once per week, but it can be less often if your budget requires).
Considering the Value of Therapy
I encourage you to consider the value of therapy to you, especially in comparison to the other discretionary and personal things that you spend money on in the course of the month.  The intrinsic value that therapy or coaching offers in improving your life in many ways can't be quantified. I am committed to your client satisfaction; if you ever feel that you are not getting value for the money you spend hiring me privately, we can talk about that.  We can discuss how I can be more attentive to your needs, and make your investment in sessions more valuable.  Hopefully, your investment in therapy is helping you to earn more in your career, get more satisfaction from your relationships, support your health, improve your mood and outlook, raise your levels of functioning, and solve the problems that bother you the most. I think you'll find that's worth it.  I think you will also find it's worth it to trust your care to an experienced and credentialed professional, and not to someone new to the field who is competing on price alone.
How can I help?  Call/text 310-339-5778 for a no-charge, 15-minute phone consultation, or to ask questions about our services.
HOW TO UTILIZE INSURANCE FOR THERAPY 1. Contact your insurance company and ask how much they reimburse for "out of network, outpatient psychotherapy". (Often, this will vary from 40 percent to 70 percent of the total fee.) 2.  Ask your insurance company if there is a separate "out of network" deductible you need to meet for the year, of if you've already met all (or part) of it . 3.  Ask if they have any paperwork that they need you to submit in addition to the receipt I will provide you after each appointment. 4.  When we meet you will pay the full fee for the service and I will give you a receipt with all the information your insurance company needs to process your claim for a reimbursement check to be sent directly to you. Usually, it takes about 4 weeks for you to receive a reimbursement check.  If you want to pay for your visits by credit card, that's fine.  I use the "Stripe" app for smartphones for credit card processing, and there is no additional fee to you for using this (I cover the 3% fee myself). When you talk with your insurance provider, they may request information regarding my practice to determine your eligibility for reimbursement.  Here is the information they might ask you for: TYPE OF CONTRACT: No contract. Out of Network Provider TYPE OF PROVIDER CREDENTIALS AND UNIQUE QUALIFICATIONS OUT OF NETWORK: Licensed Clinical Social Worker (California License LCS18290); AASECT Certified Sex Therapist; USC Certified Psychiatric Social Worker;  former USC Adjunct Associate Professor; California BBS Clinical Supervisor; published author; LGBT identified; HIV-positive since 1990; experienced since 1992. TYPE OF DEGREE: MSW, Mental Health Concentration, special sub-concentration in Chronic/Persistent Mental Illness (NSWE-accredited program, University of Southern California, Suzanne Dworak-Peck School of Social Work) TYPE OF SERVICE: Individual Psychotherapy 60 minutes (CPT Code: 90837; (NOTE: NOT 45 minutes, Code 90834, due to providing in-depth sessions); Conjoint (couple) Psychotherapy (CPT Code: 90847); Diagnostic Interview (CPT Code:  90801) ADDRESS OF SERVICE PROVISION: 566 S. San Vicente Boulevard, Suite 103 Los Angeles, CA 90048 OFFICE PHONE:  310-339-5778 OFFICE EMAIL:  Email Here. (No current FAX number) NATIONAL PROVIDER IDENTIFIER NUMBER: 1295753291 UNIQUE QUALIFICATIONS OVER OTHER PROVIDERS IN THE AREA: Licensed Clinical Social Worker in California since 1994; AASECT Certified Sex Therapist since 2021; Experienced since 1992 as a social work/mental health professional specialist working almost exclusively in therapy with gay men, either individuals or gay male couples.  Former academic appointment as an Adjunct Associate Professor in the graduate MSW program of the Suzanne Dworak-Peck School of Social Work at USC, 2012-2021,  teaching graduate-level courses in Evidence-Based Clinical Social Work Practice, Couples Therapy, and LGBT Psycho-Social-Political Issues in their Mental Health Concentration in the Department of Adult Mental Health.  Perspective in working with gay men who are living with HIV from over 30 years of successfully living with HIV/AIDS myself and serving 9 years as Chair of the Los Angeles County HIV Mental Health Task Force.  Published in academic journals and books regarding homelessness, mental illness, gay men's mental health, HIV mental health, and healthy aging.  National-level speaker on these issues.  Expert witness experience on gay men's mental health legal cases.  Over 20 years experience providing clinical supervision (certified) to California Associate Marriage and Family Therapists (AMFT), Associate Clinical Social Workers (ACSW), and Associate Professional Clinical Counselors (APCC) in full-time private practice, as well as experience as a Field Instructor for the MSW programs of USC, UCLA, and California State University – Long Beach. What is the fee for Coaching Services? Session fees are the same for life, career, relationship, sex, executive, creative, sobriety, or other coaching services, but they are a different professional service offered.  I can explain the differences between therapy and coaching when we talk.  Fees for other services such as media consulting, expert witness appearances, organizational consulting, workshops, conference talks, and other services are available on a case-by-case basis; ask for a quote when we discuss your project. For more information or to schedule an appointment, call/text 310-339-5778, or email Here.