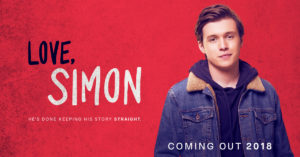 Shrink at the Movies:  Loving "Love, Simon" from a Gay Men's Mental Health Perspective
In my work as a licensed psychotherapist and life/business coach specializing in gay men and therapy for gay male couples for over 26 years, I blog frequently on topics on LGBTQ+ mental health in general, and gay men's therapy in particular, as the founder and director of GayTherapyLA, seeing clients in my office in Los Angeles (West Hollywood) but also via phone or webcam to gay male clients all over the country, or the world.
But occasionally, since I live in Los Angeles, I blog in a series that I like to call "Shrink at the Movies", which are my musings about movies from the standpoint of a movie fanboy (and film history enthusiast), and from my standpoint as a psychotherapist (clinical social worker).  This is the latest in that series:
Like so many people this past weekend, I had the chance to see the new movie, "Love, Simon", and loved it.  To say that it's "groundbreaking" might be a cliché, but it's true.  Many movies I've seen at Outfest, the annual LGBT film festival in LA, have had stories like this one, but the sad reality is that many of those movies never make wide release and the people who need to see them the most (the American mainstream, even Middle America audience) never get the chance.  "Love, Simon" changes that – and it's a bellwether test of whether mainstream movies with lead gay characters can "make it" in the mainstream Hollywood commercial film market.
Just as the LGBT+ community has the power of the consumer to boycott products and services that ultimately harm the community (Chik-Fil-A, etc.), our community also has the power to endorse and patronize products and services that affirm our community and do large-scale goodwill.  Many of us (as many as possible, as often as possible) buying actual multiplex theater tickets to see "Love, Simon" will send a powerful message to the Hollywood suits that these stories are important – and by important, not just appreciated as works of art for a niche audience (far too easily ignored), but for a WIDE audience for a movie that actually makes money, and in show business, the emphasis is usually on the business side.
As a clinical social worker by training, I endorse the idea that social workers are "the agents of social change."  When we boycott one thing, and endorse another, using the power of our collective consumer dollar, we influence how things get done in this country.  It's an historically proven strategy for advancing civil rights (see Selma Bus Boycott).  Where I saw "Love, Simon", at the Pacific Theatres Grove multiplex in Los Angeles (one of the busiest tourist attractions in LA), a brief header ran before the film featuring director Greg Berlanti (more on him later) and breakout star Nick Robinson, thanking the audience for (getting up off their collective Netflix-and-chill asses and) actually coming to see a movie in a theater.  We do that as an audience because no matter how many home streaming or other conveniences we have for viewing entertainment, there is just no substitute for dressing in clothing we like to wear (and be seen in) and going out to commune with our fellow movie-goers in a large group setting. Going to the movies gives us a sense of community for which there are few substitutes (sporting events would be another, but only for those fans).
That night, which was the opening night for "Love, Simon" in wide release, certainly had a sense of occasion to it.  At the (long) concession stand lines, there was a mix of teens, older adults, straight and gay patrons (many with encouraging – and hot – public displays of affection), going to all the movies of the multiplex, but many streaming from the concession line to the auditorium (the main, largest one of the complex) where "Love, Simon" was debuting.
During the movie, there was a lovely cacophony of small sounds from the audience, from laughs in all the right places to sniffles in all the right places.  I thought of how proud director Berlanti would have been (and the cast) to hear those sounds, because I think they would have thought, "Ah.  Good audience.  They get it."  And indeed, they did.
Just as the original audiences seeing "The Wizard of Oz" knew they were seeing something special for the first time, I think this audience didn't fully realize they were witnessing history.  While "Brokeback Mountain" certainly broke ground as another mainstream, big-studio, highly-publicized movie with gay themes and well-known stars, it still had a bit of the stigma that gay characters have had in film history for a very long time – either being the butt of jokes in many cases, or the "tragic figures" who end up dead or alone or unhappy due to circumstances (as [SPOILER] "Brokeback Mountain" does).  One of the many things that's groundbreaking about "Love, Simon" is that it's not tragic nor laughing at the gay characters; we are sympathetic with them, whether it's the gender-conforming gay Simon, or the gender non-conforming gay (man of color) Ethan.  And [mild spoiler], "Love, Simon" has a happy ending, bathed in romance but restraining from being cloying, in a way that is heartwarming, satisfying, and delightful, when we finally learn who Simon's "secret online penpal" that he virtually falls in love with really is.  The elements of romantic comedy, teen coming-of-age story, and even "whodunit" mystery are blended masterfully to be continuously engaging, a credit to a screenwriter, cast, and director all working at the top of their Hollywood game.
Star Nick Robinson never ceases to evoke empathy for his various points of plight in the story, at the same time that he inspires a certain Everyman attractiveness.  His character being 17 but the actor being 22 keeps it from being creepy for an older gay man like me (and so many others in that audience) who I'm sure found Robinson consistently charming and cute in a certain PG-13 sexiness that so many teen romances have (anyone remember the hottie in "Sixteen Candles"?  He was technically jail-bait.  It's always a little awkward when teen male hottie actors in their 20's are playing off-limits teen characters; look at how Taylor Lautner was paraded as a male sex symbol on the cover of Rolling Stone when he was yet-underage).  Our empathy with Nick-as-Simon marks a far cry from the days of Franklin Pangborn, Edward Everett Horton, and Clifton Webb playing gay (or wink-and-nod gay) characters that as audiences we liked but always seemed to laugh "at", not "with", even to some extent Nathan Lane in a film as recent as "The Birdcage", or its French predecessor, "La Cage aux Folles".
We're also a far cry, in the history of film, from the days of tragic or scary gay characters as in "Cruising", "Silence of the Lambs", "The Children's Hour" (lesbian-themed), and so many others (each of those films had protests for its negative portrayals of LGBT characters).  Nick Robinson, in his Type-O, broad likeability factor, makes film history by blowing past all of those (even classic) gay characters and dances (kinda badly, in one fantasy sequence, breaking the stereotype of gay men as good dancers) into his own place as a "new kind of gay" character, the Teen Romantic Lead.
That the film is based on a Young Adult novel by an (ostensibly) straight female, "Simon vs. the Homo Sapiens Agenda", is a noteworthy point.  This story doesn't come from a gay man with an autobiographical ax to grind (not that there's anything wrong with that), but comes from a mainstream, extremely popular genre of entertainment in the YA novel world (think "Twilight" series on film, or "Vampire Diaries" on television).  This source material has the keys to the kingdom for reaching that all-important young audience, the kind of people who buy YA novels and to go to romantic comedy movies.  It might all be paid from their weekly allowance from their parents or from babysitting or lawn-mowing money, but it is a commercially important and ultimately powerful demographic source of studio revenue.
"Love, Simon" and Gay Men's Mental Health
I also teach psychotherapy theory as an adjunct professor at the Suzanne Dworak-Peck School of Social Work at USC, as well as a course on LGBT social work.  One of the many theorists we study, Heinz Kohut, who developed something called Self Psychology, said that we must experience the "mirroring" of ourselves in other people for optimal mental health.  That's why it's heartwarming to imagine all the gay teens seeing "Love, Simon" and experiencing that sense of mirroring when they see themselves empathetically in Simon.  One of my friends, James Duke Mason (who is the out son of Go-Go's lead singer Belinda Carlisle and grandson of Hollywood legend James Mason, who is also running for City Council in the City of West Hollywood), described this feeling on Facebook in his own reaction to "Love, Simon", mentioning how he would have loved, as a teen at 14, to see a movie like this and experience that feeling that he's not alone as a gay teen.  He mentioned the alternation of smiling/laughing and tears in all the right places that he experienced watching the film, and I think his reactions are multiplied by the millions who see it.  When our American gay teens experience so much invalidation these days by all the anti-gay (and anti-LGBT) messages coming from Trump and consistently ALL of his cabinet and colleagues, it is up to us, as The People, and to our popular culture, to run interference with those negative messages (that can drive LGBT teens into depression or suicide!) to balance out and validate an entire new generation of LGBT youth.  Media sources like the frighteningly popular "Focus on the Family" radio show aim to denigrate and destroy the lives and dignity of LGBT people, and media sources like "Love, Simon" seek to validate them.  It's a cultural tug-of-war battle for the hearts and minds of people (and parents) nationwide.
Harry Cohn, former head of of Warner Brothers Studios. used to irascibly say that he wanted his studio's movies to just tell good stories; "If I want to send a message, I'll call Western Union" (which is how one sent telegrams before long-distance phone calls were common).  Despite his notorious a-hole personality, he's partially right.  "Love, Simon" sends a message of LGBT dignity and affirmation in a way that is relaxed and free of "preaching", even to the choir.  That it's an enjoyable story first, and socially significant second, is probably to its credit.
Gay Visibility Through Presence    
That's why the importance of "Love, Simon" is particularly poignant in its mainstream visibility.  Visibility has always been a conduit to understanding.  Mark Twain said that, "Travel is the antidote to bigotry", because exposure to different peoples and cultures broadens one's perspective and how the power to lessen prejudices.  Legendary gay activist and politician Harvey Milk, of the San Francisco Board of Supervisors, murdered by colleague Dan White in the 70's, encouraged LGBT people to come out.  He actually said, presciently, that if he was ever shot, then "let that bullet shatter every closet door."  In making "Love, Simon", the creators do more than make a "good movie", they create a vehicle of visibility that leads to de-mystifying the LGBT experience in general, and young gay men in particular, that certainly can soften hearts and minds toward a more tolerant, equal society.  That's not a lecture nor a political speech, but the fictional depiction of a story like Simon's that is actually quite realistic, multiplied by millions of young gay men throughout our world, and throughout time.  Simon is the Gay Teen Everyman who becomes a certain "cultural ambassador of tolerance" that even a good politician can't achieve.
Television and Movies
The idea of sympathetic gay characters that socialize Americans to the existence of gay men and gay teens isn't really new.  Television has been doing a good job of it for a while, now.  Sympathetic gay characters have been seen in prime time on "All in the Family" in early 70's, "Soap" in 1977 (when Fundamentalist Christians protested the inclusion of a gay character, played by Billy Crystal, before the show even premiered on ABC), "Dynasty" in the 80's with gay son "Stephen" (called "Sensitive Steve" in some episode summaries) who was a bit groundbreaking until they made Stephen impregnate a woman), and of course the former-and-present "Will & Grace," which balanced "straight-acting" Will with a flamboyant stereotype, "Jack", played by the gay actor Sean Hayes, who had a ridiculously flamboyant cousin (offensively played, I believe) across the dial with "Cam" from "Modern Family", played by (straight) Eric Stonestreet.
Also today, Berlanti does an excellent job of LGBT inclusion in having a lesbian character as sister to "Supergirl", and also excellent gay characters on his former "Brothers and Sisters", among others.  Berlanti perhaps has done more for LGBT advocacy by way of inclusion in popular culture than even some gay political activists because he knows the power of television to penetrate (tee hee hee) the American home and challenge family prejudices by way of (excellent) entertainment fare (I'm also a superhero fan boy, so Berlanti's series of superhero-themed shows, "Arrow", "The Flash", "Legends of Tomorrow", "Supergirl" can do no wrong in my book).
Criticisms
Several of my clients in my therapy practice asked me this week if I had seen "Love, Simon" yet.  One had seen a preview screening and mentioned that the film was told from a "White, privileged" point of view (as the client himself was), and this led to a discussion of what we discuss in my LGBT course I teach at USC as "intersectionality" – which are the various demographic traits that make up a person:  gender identity, sexual orientation, race, ethnicity, socio-economic status (rich/poor/middle class), national origin, immigration status, culture (Jewish, etc.), and other variables.  I told him that I thought the filmmakers deliberately set "Love, Simon" in an affluent suburb as a demographic choice; that the film is perhaps especially marketed to middle-class moviegoers in middle-class multiplexes all over the country, and perhaps this "White Suburbia" setting was chosen to make the film relatable especially to a rather middle-class swath of the population, and they could be "forgiven" for a bit of what some might term "white-washing", especially since another gay character (at least) is a person of color, in the African-American, Ethan.  There is even a discussion of a Jewish character at Christmastime.  So while there could be criticisms about satisfying "diversity" enough with an affluent, White, suburban lead character, I don't think "Love, Simon" does this offensively, especially with extremely positive (and funny!) portrayals of African-American characters and other ethnicities.
Other criticisms I've heard is that the story is "too easy" for Simon, and that "he will learn soon enough how bitchy queens can be."  That may be true – for me, I had a rather idyllic first experience, only to experience how gay men can be cruel to one another much later – but the story is about Simon's senior year in high school; what happens to him later, like in college or beyond, as an out, gay man, is subject to speculation.  In my general optimism, I like to picture the character having a particularly good "It Gets Better"-style adult life, much like director Berlanti himself, who to many is not only an admirable Hollywood figure as prolific writer, producer, and director, but also seems to epitomize an idealized gay life with a handsome husband (soccer star Robbie Rogers) and their adorable infant son.  If Simon was active in high school drama and "Cabaret", perhaps he went into writing and producing.  How much of "Love, Simon" has autobiographical elements of Berlanti's own life, I don't know, but the film is directed with a close "knowing" of the emotional dynamics that probably only someone who has lived through coming out could grasp.  Berlanti has said in interviews for "Love, Simon" that he likes to direct to evoke special emotional moments (as opposed to blow-up explosion action sequences, perhaps) which puts him in the good company historically of "women's directors" like George Cukor.  All to his credit.
Berlanti is someone who, without my knowing him well (we met once at The Abbey and exchanged a few Facebook messages when I've praised his other work, such as the sensitive portrayal of gay relationships on his "Brothers and Sisters" series), is someone I sometimes hold out to my gay clients as being someone who went after his dreams, and captured them.  For many gay men growing up, sure, "It Gets Better"; for some, such as Berlanti, "It Gets AWESOME"!
What's the best way to approach "Love, Simon"?  First of all, just see it.  Then "sell" everyone you know on seeing it.  Let's show Hollywood (and "America") that romantic teen comedies with gay characters CAN be box office successes.  Sell it to your family as it's a family story.  Sell it to your friends that it's a story about friends.  Sell it to your romantic sap friends that it's a romance.  Sell it to your best female friend that it's about "us" (a "This Is Us" for the younger  generation).  Sell it to your colleagues that it's a well-written, acted, and directed film that makes for good water-cooler conversation later.
But, just sell it, please, so that gay representation will not just be a flash in the pan anomaly, but a closer step toward full integration culturally, which contributes to full integration legally and socially, at a time when "religious freedom" laws proposed threaten to take us steps backward in far too many areas of our country, along with other atrocities against the LGBT American population in this "Trump Era", which gay icon Bette Midler called, in her Tony award acceptance speech, "these terrible, terrible times."
Do this, and you'll be contributing to the Youth of America in ways that will blossom in the years ahead, just like we all hope Simon and "Blue's" romance does, and is actually an act of patriotism for us to work toward a more just and equal country, from the multiplex to the Capitol.
Do this for me?  Thanks; you're a friend.
Love,
Ken