Fear No Leather:  Benefits of BDSM Play for Gay Men Who Are Scared Stiff
(keywords: gay bdsm, leather, rubber, s/m, b/d, kink)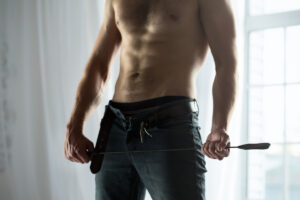 Imagine for a moment that you are overhearing someone talking.  They are saying the following: "Ewwww.  I just don't get those guys.  That's just weird.  It's unnatural.  You've got to be sick to be like that.  I don't know much about that, and I don't want to.  It's just gross." 
Now – what are we hearing?  A Fundamentalist talking to a church friend about homosexuality – or a young gay twink talking about other gay men, who engage in leather/BDSM play?  Unfortunately, one can hear similar comments from each.  For many young gay men, and even some older ones, the entire concept of BDSM is  unfamiliar, intimidating, and even evokes hostility.  But on a closer look, the potential benefits of at least experimenting with such sexual play can be plentiful.
As gay men evolve in their sexual repertoire and skills in the years after coming out, discovering these types of non-vanilla play can be an exhilarating discovery of self, partner, and community, and an extremely beneficial tool for building the skills of relationship with a partner, from communication, negotiation, building intimacy, increasing trust, and deep emotional bonding.
Physical experimentation in BDSM play can have exciting and joyous emotional benefits, and can include exploring and intensifying the five senses of the human body – much the way a visit to a theme park might thrill us by inducing speed, height, centrifugal force, wind, temperature and moisture changes through the design of various thrill rides.  Various BDSM specialty equipment and toys can be used to enhance, control, intensify, and manipulate senses – including sensory deprivation – that can thrillingly enhance natural human endorphins and endocrine responses, such as adrenaline.  For example, touch can be enhanced by introducing textures to the bedroom such as leather, rubber, spandex, neoprene, silk rope, cotton rope, light/heavy chain, and various kinds of tape, or by manipulating the restriction and compartmentalization of movement to intensify erogenous zones of the body.  Electric stimulators, feathers, pinwheels, hot wax, and even simple ice cubes can expand touch immensely.  Scent can be enhanced by the smell of leather, rubber, natural body scent, candles, or "room odorizers" (poppers) (though these are commonly used, they should be used with extreme caution, as they can be both flammable and toxic, and the overall safety of their use is controversial).  Sight can be manipulated by leather blindfolds, hoods, or ambient lighting (candles or black lights).  Taste can be manipulated by ball gags, or feeding gags – or the erotic application of common foods such as whipped cream, puddings, gelatin, ice, honey, and grapes.  Even breathing can be altered by gas masks or by pinching your partner's nose as you kiss him deeply, controlling when he can breathe in an act of exciting power and domination that can thrill (be responsive and safe!).  Because of the safety implications of some of this play, books or courses from Avatar should be consulted first.
Even a brief review of online resources reveals that much useful information about BDSM play exists on the Internet, both straight and gay.  According to Cory Silverberg of About.com, BDSM is, "a range of sexual behaviors…an approach to sex and sex play. The term comes from three other acronyms," – B&D, which stands for bondage and discipline, D/s, which stands for dominance and submission (note the capital "D" and the small "s"), and S&M, which stands for sadism and masochism (where sadism is deriving pleasure from inducing consensual pain in another person, and masochism is deriving pleasure from receiving it.).  BDSM isn't a clinical term universally used by medical or health care professionals; it's more often a term used by people to describe their own sexual practices, and sometimes used by others to denounce the way others choose to have sex.  There isn't one accepted definition for BDSM…A lot of people who engage in BDSM say it happens in your mind, and often the sexual activities you can see are the least interesting aspect of the action."
BDSM play might be using a pair of handcuffs to lock your partner to a bed post during sex, to elaborate scenarios of dominance and submission that include role play, uniforms, leather gear, rubber gear, and other kinds of costumes.  It can be quite spontaneous, or required days of preparation for a "scene" between the partners.  Sometimes this involves no sexual intercourse at all, so it could be said that "edgy" BDSM play is actually a very safe form of safer – and SOBER – sex.  (BDSM play can also be a way for guys in recovery from crystal meth addiction to deeply intensify the senses and sexual experiences while still remaining sober).
BDSM describes only actions that all parties choose to participate in. Any sexual activity that is unwanted or forced upon someone else would not be considered BDSM — it would be considered harassment or assault.  The leading BDSM organization in Los Angeles, Avatar, emphasizes that BDSM play should always be "Safe, Sane, and Consensual" – and they provide workshops and classes throughout the year on various forms of kink play and how to do them while simultaneously providing maximum enjoyment and safety.
BDSM play offers more than just an alternative to your usual "vanilla" sex to spice up an individual's or a couple's sex life.  There actually can be compelling benefits to mental health of the individual, including general life and relationship skills.  At a meeting in April, 2007, the San Francisco Leathermen's Discussion group brainstormed what they saw as such benefits, led by Dr. Richard A. Scott.  Some of the benefits these men identified included:
Learning the difference between power and force, sensation, and limits of the body.

Allowing us to access the dark side of our personalities in a safe way – our aggressive, confrontational, unsocialized, primal side, so it doesn't "leak out" in unconscious and unproductive ways in other parts of our lives.

Teaching us better negotiation and communication skills, increasing self-awareness of our limits and boundaries, and how to assertively communicate and achieve our most fantastical of erotic desires.

Experiencing something fun, playful, creative, liberating, and expressive; and giving us a "vacation" from our everyday selves and even mundanities of life.
Perhaps most importantly in a couple, it can build trust and intimacy.  Other psychotherapists have contributed extensively to these ideas in writing and clinical practice long before me.  Guy Baldwin is a renowned Los Angeles therapist with such experience, who is the author of various important essays and two books, Ties That Bind (1993) and SlaveCraft (2002), as well as essays in Drummer magazine and the winner of the 2008 Leather Leadership Award.  My long-time friend and colleague, West Hollywood psychotherapist and author, Tony Zimbardi, Psy.D., MFT, agrees that BDSM play offers numerous benefits:
"One of the benefits of a BDSM experience, relationship or lifestyle is enhanced intimacy.  It may not look like it from the outside, when the observer simply sees a Top/Dom 'abusing' his bottom/sub, but in actuality, the two have entered a real dance of intimacy, because it takes trust and communication to engage in BDSM play.  For instance, the 'choreography' is that the two discuss their scene and basically what will happen, in advance.  And the truth is, the bottom/sub, not the Top/Dom is the one in control of the scene, because if the bottom/sub speaks the "safe word," the signal to end the scene, the scene ends then and there; that's communication, trust, intimacy all rolled into one.  So even if you're a rather vanilla couple who decide to engage in a little BDSM-lite role play, it can be beneficial and enhancing to your already intimate relationship."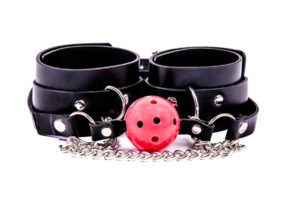 If all of this sounds intriguing – and hopefully just a little titillating – the question usually comes, "Sounds hot; but how do you ever start?"  It's easier than it may seem.  Beginners can enjoy their journey of exploration just by reaching out and reading some of the resources, and experimenting with some of the play activities that intrigue them the most.  For most guys, one aspect of BDSM play usually attracts them first.  Perhaps it's wanting to see your partner in a leather jockstrap, or handcuff him to the bedpost as you go down on him.  Or maybe you want him to tie your ankles and wrists to the bedposts with old, discarded silk neckties – before you invest in high-quality leather/Velcro/buckle ankle and wrist restraints from the various play supply stores (see Resources Box). Or perhaps the couple peruses the workshops offered by Avatar, and attends a class from the list that appeals to them both.  Shared emotional experiences of all kinds – exploring "adventures" together – can have the effect of bonding a couple and increasing intimacy.
Communication and discussion come first.  Express your innermost desires and fantasies to your partner, either verbally or having written them down, and let him talk about his.  Then, narrow them down your options into something you might want to try tonight.  Develop a "safe word" that is like a password that signals at any point in the play, "Hey, I'm not comfortable here, we need to break character, take a time out, discuss the issue, and adjust (maybe your right wrist is losing circulation and the silk tie needs to be loosened a bit!).
One way to add spice to a couple's sex life, particularly a monogamous one where the same sexual acts over and over might get boring over time, is to do what I recommend to a number of couples when I provide them with couples therapy:  Take a "field trip" to one of the play supply stores on the Resources List, or perhaps online, and just browse the available items, and talk about what kinds of gear, toys, or other merchandise turns you on.  Maybe take turns by having each partner select one or two items that intrigue him the most (save your pennies; this stuff ain't cheap).  Then, go home and try them out!  The sense of playfulness, discovery, and erotic fun with each other can be quite intense.
Many people ask me, as a therapist, do I think that BDSM play is a re-enactment of past childhood abuse.  There is much discussion and literature floating around out there on this topic, but in my experience of over 21 years as a therapist, I don't find this to be the case.  I work with many survivors of incest and other forms of sexual abuse, and I don't hear a connection between this and BDSM play.  BDSM play is particularly consensual and "aware", whereas sexual abuse is non-consensual and is a serious crime.  I often work with my clients on the concept of "owning" your sexuality in what I call, "Sexual Self-Empowerment" – which means saying "yes" when you want to say "yes", proudly and without shame, and saying "no" when you want to say "no" (such as in cases of coercive, problematic, obsessional, or compulsive sexual behavior).  Assuming you are with a consenting adult, this means that saying yes is seeking out, asking for, and getting the kinds of sexual play you want to participate in, that stimulates, excites, and satisfies you – however vanilla, or however kinky.  Saying no is setting the boundaries wherever you feel they need to be set, having control over your own body (such as who touches it, when, how, and for how long), and declining any kind of sexual act that is triggering for traumatic memories, boring, uncomfortable, or just plain unpleasurable.  As an adult, we learn to be aware of what our sexuality means to us, and share and negotiate with a partner how the best sexual play can be realized.  For most people, our favorite sexual expressions can be quite individual – like our fingerprints – and while fetishes and preferred play can be varied, we can often find like minds by using the Internet websites, clubs, or affinity groups on Yahoo.com, or we can explore each other's favorite ideas – usually with one partner, but perhaps in a 3-way, 4-way, or even a group.
Safety – both emotional and physical – is always of paramount importance, particularly when involved in potentially dangerous items that constrict body movement, affect breathing, environmental safety (candles, water, electricity, etc.), or safer sex issues to prevent HIV transmission.  One tip in a past Avatar class said never leave a partner who is bound alone – after all, we live in California – "earthquake country" – and you never know when you might have to get someone free fast to take cover.  Having EMT scissors to cut ropes, learning to tie quick-release knots, and other precautions should be part of preparation for any play scene.
More resources and seemingly endless articles are available online to explore any aspect of BDSM play that intrigues you.  An open mind, and a sense of optimism, playfulness, trust, patience, and experimentation are keys to its enjoyment.  Often participants find their experiences to be different – and usually MUCH more pleasurable – in actual experience than they ever imagined or anticipated in their mind, once they give something a try.
So the next time you overhear comments that dismiss kink play out of hand, try to consider the other side – you might just discover wonderful and new things about yourself that take you to new heights of sexual satisfaction.  And having an optimal sex life is one way to… Have the Life You Want!
Ken Howard, LCSW, CST is a gay, poz (30 years), sex-positive, LGBT-affirmative, licensed psychotherapist and AASECT-Certified Sex Therapist who has specialized in working gay male individuals or couples for over 29 years.  He provides counseling, psychotherapy, or coaching sessions in his office in Los Angeles (near Beverly Center), or via phone or via Telehealth/webcam, nationally and worldwide.  For specific help on how your relationship/sex life could be improved, call or text 310-339-5778 for more information or to book an appointment.

Online Resources:
Avatar-LA .org – the leading BDSM information/advocacy club for gay men in Southern California