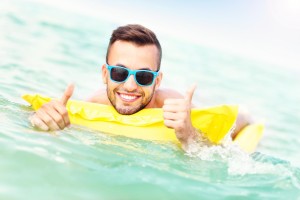 Gay Men's Mental Health:  5 Tips for an Optimal Spring/Summer
Spring has sprung!  Spring is a nice time of year for many people, because things like the doldrums of winter can be shaken off and the spring/summer seasons can usually bring a lot of nice things like sunshine, outdoor socializing, extra daylight to work/play in, vacations, time off from work, home projects, sight-seeing, and rejuvenating things for our bodies/minds/homes.  For gay men, these seasons can be particularly fun, because we observe them in our own culturally-specific and special ways.  There are lots of variables in how to enjoy spring/summer, such as health status, geographic location, income, job, and just other life circumstances. But for what I notice near my home and psychotherapy/coaching practice in Los Angeles/West Hollywood, California, there are some great things to take advantage of this time of year:
1.  Physical activity outdoors – With warmer temperatures and extra daylight in the evenings, getting outside is made extra special and, if it's not too hot, comfortable.  Taking a drive with the top down in a convertible, riding a bicycle or motorcycle, hiking, swimming, taking a walk in the neighborhood, visiting a park, going to a theme park, strolling outdoor shopping districts, or playing various sports are all made easier in warmer and sunnier weather.  Gay men on the whole are great at these, as it's part of our culture to be particularly active, and for some that is up to and including elite athleticism.  I must have a dozen friends who do the annual AIDS Life Cycle fundraiser for HIV social services in LA and San Francisco.  Gay men in more and more cities are developing group sports leagues to add some variety to the usual bar scene.  There are often "gay sections" of beaches, lakes, and mountain resorts.  Sure, there's the importance of sunscreen.  But the mantra of "go outside and play" applies not just to children, but to adult GayBoyz, too.  Sun and activity can be good for mental health by stimulating parts of the brain, and enhancing overall health and fitness (or another article on Gay Men's Fitness: Finding the Mental Motivation for Exercise, click here).

2.  Pool parties or barbecues — Maybe it's just LA, but it seems that pool parties are the events of the season, from fundraisers to private groups of friends.  Since gay men tend to love esthetics, including that of scantily-clad men, pool parties are a great way to socialize with some fun/relaxing activity.  Even with no pool or yard, having a barbecue with an apartment/condo balcony can be fun, or meeting for a group picnic at a local park.  Outdoor social events don't need to be expensive to be fun.  And try — really hard, I mean it, try — not to get all drama about body image issues.  I know it can feel like it sometimes, but it's not a beauty contest.  Wearing a swimsuit is a practical thing to have ease of movement when you're swimming or sunbathing or doing things outdoors; it's not meant to be social torture.  Accept yourself in whatever shape winter has left you, and if you're hung up on having too much here or not enough there, remember that's not the point.  The point is to have fun, and if you want to embrace some kind of pristine diet or workout routine, do it because it's fun, not because you're indulging in shame if you don't.  One thing I've learned as a middle-aged gay man is to have as much fun as possible, as often as possible, because time passes quickly.  As gay icon Bette Midler says about all forms of pedantic foolishness, including Body Fascism and judgment:  "Oh, fuck 'em if they can't take a joke."  And if the body self-consciousness is really serious, as in Body Dysmorphic Disorder or eating disorders, well, that's I'm here for as a licensed psychotherapist.  Help is available. 
3.  Pride celebrations — In most major cities in America and even the world, summer is the season for local Pride celebrations.  I have some friends who seem to make an art of making the rounds, because each city offers a little something different.  Gay men take so much crap during the year from political pundits, anti-gay religious "leaders", homophobic pizza makers or auto mechanics, and practically daily headlines about some such drama, that to this day, long after the 1969 Stonewall events, we need those annual Pride celebrations to re-charge our political and social batteries, and self-inoculate against the stress of unrelenting rhetoric from anti-gay religious and Republican figures in the ubiquitous media all other times of the year.  By having robust, even hedonistic Pride celebrations throughout the civilized world in fair weather, we celebrate each other in the global LGBT community, our existence, our visibility, and our dignity, and show ourselves and the world that the very vocal and persistent minority of anti-gay pundits do not have the last word.  They might think they have the last word, but as grown-up Christina Crawford said in the gay camp classic movie, "Mommie Dearest":  "Does she?  Does she?"
4.  Getting out — Whether it's an elaborate vacation to travel to a far corner of the world or a modest weekend get-away, gay men make an art form of travel.  Since as a community we often have a built-in appreciation for diversity, gay men enjoy travel to many destinations — some welcoming to us, some not.  Gay men can often, but not always, have economic privilege in many major cities of the world, especially in dual-income couples with no kids, or even with kids (and high salaries), so the saying "we are everywhere" around the globe is never more true than in the spring/summer seasons.  But whether it's local, national, or global, getting out of our regular routine and seeing other people, places, and things can be refreshing.  In many countries of the world (although perhaps not in the U.S.), it is recognized that robust vacations are vital to mental health and actually create a more healthy, relaxed, and productive national workforce.  Since it's still spring now, see if you can think about your summer, if you haven't already, and plan some sort of get-away.  What would feel good to your mental health?  What would you like to see?  Who would you like to see, or be with?  What would you like to find yourself doing, hiking a mountain and enjoying the view from the top?  Lying on a beach with a fru-fru cocktail?  Visting ancient ruins?  Seeing the architecture and culture of another city?  Hearing stories from relatives?  Wandering blissfully aimlessly on the wide-open road?  A healthy "mental vacation" doesn't need to be expensive, but if you've been saving up during the winter doldrums, balance it out with indulging some sight-seeing now. 
5.  Getting perpsective for the remainder of the year — From a mental health point of view, spring and especially summer can make us mentally prepared for the last portion of the year in the Fall.  Maybe we're starting something new for a new school term in late August or early September.  Maybe we have a Q4 project for the year.  Maybe we're relocating when it's warm and settling in by Fall for when it's colder.  With the remainder of the year to go, how are you doing about those "New Year's resolutions" you made last January?  Hopefully with some spring/summer "down time", you get a perspective and a focus on what you want to come next in your life.  And if you want to be really ahead of the game, maybe sketch out some fabulous Halloween costume concept for you and your friends when you're sweltering with a mai-tai on the beach.
There is a philosophy that says our lives are a series of seasons; the seasons are parts of the Wheel of the Year, and we can get so many revolutions in a lifetime.  It really should be for every season, but think about what would make this year's spring/summer fun for you.  Think of how your summer was last year, and if it sucked (for whatever reason), you kind of get a do-over this year, and every year.  Now, in spring, is the time to start planning.  Make a promise to yourself to raise the Fun Factor, whatever that means for you in terms of activities and people to share them with. 
********************************************************************************************************
Ken Howard, LCSW, is a gay and HIV-positive (28 years) licensed psychotherapist (LCSW) and life/career coach who has specialized in working with gay men, as individuals and couples, for over 26 years.  He helps many gay men (and others) resolve the issues that undermine your quality of life, and helps you to thrive.   
For help improving your personal or professional life, whatever your current challenges are, consider sessions with Ken for counseling, coaching, or therapy sessions, at his office in Los Angeles/West Holllywood (near Beverly Center mall), or via phone, or via webcam, anywhere in the world.  Text or call 310-339-5778 or email Ken@GayTherapyLA.com for more information.
Ken is also available for expert witness work on legal proceedings involving gay issues, all LGBT issues, HIV issues, and issues concerning psychiatric illness or disability, as well as organizational consulting for non-profit organizations, corporations, college campuses, and conferences. 
To get your copy of his self-help book, Self-Empowerment: Have the Life You Want!,visit www.Amazon.com , or wwwLuLu.com.  It's your "portable therapist" for the challenges you face today in your mental health, health, career, finances, family, spirituality, and community.