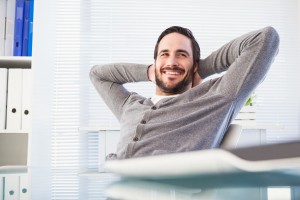 What is professional self-esteem?
In recent years in my psychotherapy practice, I have noticed a dramatic increase in the demand for more "coaching"-style services, and I have been happy to develop this for my clients. There are personal coaching issues, to be sure, but what I find much more frequently is that clients need professional coaching, especially for what I call the "independent professional solo entrepreneur", meaning people who make their living as a self-employed professional, in a variety of fields. The fields range from TV writers, to actors, architects, fashion designers, singers, office furniture salesmen, hair stylists, personal fitness trainers, lawyers, doctors, salesmen, etc.
What I find is that in the context of a major national recession, people need support for opening, sustaining, and maximizing their business. We have discussed a number of topics, which include how to have the confidence to start a business, who can support the endeavor, how will it be financed, what is the competition, how will the business be marketed, who is the target niche audience, and how to measure success. We've also discussed fear of "failure", and actually, much more often, fear of success.
What I have concluded after doing this work for over 25 years is that there is a concept that I call "Professional Self-Esteem" involved here. I've always said that in business, it's not "the competition" that holds us back, or even a recessionary market, but ourselves, and our negative thinking that undermines reaching our professional goals. Developing professional self-esteem is part of the process of removing the barriers between us, and the success we dream of. Dreams are just "goals without timelines". In business coaching, we talk about Success Goals, how they are defined, and what resources we need to reach them.
Professional self-esteem, then, I believe, is made of the following components:
– Recognizing ourselves as having the interest, aptitude, talent, and SKILLS required to do a certain profession
– Believing in ourselves enough to close any "gaps" in our skills and qualifications, through education, mentoring, and independent reading/research/study
– Reflecting on ourselves and removing any "guilt" or barriers to fully accepting success
– "Making friends with money" – Being confident that we can earn a good (or great!) living doing what we love, without guilt, because we have a mechanism for giving back (Jack Canfield's great book, The Success Principles, talks about the "tithe" — giving a percentage of your income to worthy causes, which I've done for a number of years with great joy and satisfaction. That way, the more you earn, the more the "causes" you support earn!)
– Identifying and re-writing any mental "negative messages" that we grew up with, that we "can't" or that we're not "good enough"
– Evaluating ourselves to know what we do well in our profession, and what needs work. We don't beat ourselves up; we humbly identify areas to improve, and make a commitment to shore them up. We also identify the resources we need to improve, such as additional education, training, coaching, or mentoring.
– We confidently identify the resources we need to succeed — internal resources, like responsibility, commitment, confidence, stamina, determination, creativity, and persistence, or external resources, like mentors, books, courses, websites, workbooks, research data, advertising/marketing strategies, etc.
– Challenging the belief that life is here to "suffer through" in jobs we hate, or even just "tolerate", instead of going after our dream job that we do better than just about anyone else we know.
When I do career coaching for gay men, one of the things I encourage my clients to think about is the "sweet spot" where three major areas converge.  These are:  1) the skills and work that you like to do, that you just enjoy doing on a day-to-day basis; 2) the skills and work that you can do well, as in well enough to successfully compete with others in a commercial marketplace; and 3) what the industry (or the public) will actually pay you to do, if there is a need for this skill; there must be an economic or commercial need for what you do, or you can't make a living at it.  All three of those areas must converge for your professional success to be sustained over the long term (such as, until retirement).
Another concept I like to encourage clients to think about is another set of three, which are to think about: 1) the skills that you want to use; 2) the setting that you want to use those skills in; and 3) for the benefit of a worthy audience that it is your honor (or duty) to serve faithfully.  If we use my example, I use the skills of psychotherapy and coaching; in a private practice office setting (in-person, and phone/webcam settings), and for the benefit (mostly) of the population of gay men (individuals and couples).  But my colleagues that share my office suite might use psychotherapy skills, and in a private office setting, but for a different audience of, say, adolescent girls with eating disorders.  Or, I could use the skills of psychotherapy, but in a school setting, for LGBT youth.  I have friends who use the skills of financial planning, in a private office setting, for an audience of gay men.  Just changing one variable changes the concept of the career that you want to cultivate over the long term in your adult working years.  Think about what variables would be the most meaningful for you among those:  skills, setting, and audience.  The audience is the group of people that you want to serve in your personal value system, that motivates you to get out of bed every day and go to work, because you want to be of service to a particular group of people that you feel honored or inspired to serve.  You can derive your professional self-esteem by knowing that you are using your skills, every day, to help and serve others meaningfully, while hopefully enjoying doing it.
There are more nuances to Professional Self-Esteem that come up in client sessions, but these are the primary ones. Do you have "professional self-esteem"? If not, which components do you need to do some work on to cultivate?
My book, titled, Self-Empowerment: Have the Life You Want!, (available on Amazon, here) has an entire chapter devoted to closing the gap between how life is, and how you would like it to be, in your Career.  Since we spend so many of our waking hours working, year after year, we have to make that time count, not only to make a living, but also to feel like our lives have meaning and purpose besides just earning money to pay the bills.
You could close that gap between where you are, and where you'd like to be, in achieving the ideal vision of your Professional Self, by doing therapy or coaching with me.  I offer sessions in my office in Los Angeles (near San Vicente and Sixth), or via phone or webcam from anywhere in the world.  Call or text 310-339-5778, or email me at Ken@GayTherapyLA.com, for more information or to book your appointment.
Doing what you love, with the talents you have, and earning a living doing it, can help you to…Have the Life You Want!