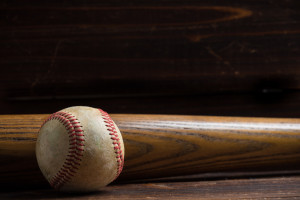 I was diagnosed with HIV on Saturday, November 3, 1990. That was 25 years ago today. This was at the old site of the LA Gay & Lesbian Center, when it was on Highland Avenue. My "code name" that I gave one week before for the blood test was "KH90" (my initials and the year), and I had decided to get tested because my best friend, Charlie, who was only eight months older than me, had tested positive the month before. We had never had sex, but since we were similar age, if he had it, oh, shit, I better get tested, too.
I was running late, typical of me. Then a little voice said, "Kiddo…" (I call myself that sometimes), "you might not want to rush in for this." I choked up a little bit, almost knowing then, even parking my car (ugh; it was Hollywood parking) that maybe my life was about to change.
A woman named "Claudia", whom I assumed from her overall look that she was a lesbian, one of countless lesbians who gave of their time, energy, and compassion all throughout the AIDS crisis, called me back to a sort of exam room and sat me down and asked me if I had any expectations about what my result might be. I said, well, I couldn't remember having an "high risk" activities, so I guess it would be negative. "Well," she said, "it's positive.". My mind reeled. I didn't hear anything she said, and I didn't even hear anything else I said. I just remember I was rambling, as if my talking would push her words back off of me and back into her mouth where they could stay forever for all I cared. I honestly didn't remember any "high-risk activities" (OK; let's stop with the euphemisms: I didn't remember getting fucked without a condom), so I really didn't know how, who, or when I was exposed.
I don't remember much after that. I guess I left. I guess I drove home. I do remember calling Charlie once I got home and we decided to eat that night at Café Figaro on Melrose and went back to his place to watch a VHS video of "Tales from the Crypt". Why I remember that, I don't know. I don't remember what I had for dinner. I don't remember what anyone was wearing. I just knew that life in that moment had changed.
Long story (about 25 years' worth) story short, I left my job as an administrative assistant at a Westside software company and became a psychotherapist (Licensed Clinical Social Worker) after going to grad school (MSW) at USC. I specialized in Mental Health, and I wanted to work in HIV mental health, where I have ever since, more or less. My other specialization (really my primary one now) is working with gay men, both individuals and couples. At first I worked in non-profit agencies (many of them about as corrupt as the Mafia, which I'm still bitter about) and for the past 11 years I've worked for myself in a full-time private practice, offering individual and couples therapy, and also offering life/business coaching via Skype. I love it. I wish I did even more of it, so if you want to come see me, you're really welcome to.
How do I feel now? It's thousands of emotions. Sometimes it's guilt that I survived the AIDS crisis when so many of my gay male peers didn't (Charlie died in September of 1998, after going off his legitimate HIV medications at the encouragement of a cult that he joined that was a combination of Amway and the Jim Jones cult who encouraged him to rely on their "water filters" and "vitamins" to cure his HIV. It didn't work. Another thing to be bitter about, but it was his choice). Countless friends, from college peers at UCLA, to professors there, to co-workers at the software company, to peers in the Gay Men's Chorus of Los Angeles, all passed away. I watched a couple of clients die as I was doing counseling at their bedside at a couple of those agencies. I did not go insane, although I think I claimed a right to. Instead, I followed my dad's advice, and my generally homophobic, racist, sexist father isn't someone I always listen to for the best advice. But sometimes dads really do their job, and this time he did: He said, "Oh, that (HIV). Just play the game one inning at a time." You know that's worked? Every challenge I've had (from bilateral hip replacements due to HIV and a bout of anal cancer) to the countless pharmacies, labs, doctors' offices, blood draws, shots, and pills (a veritable mountain of pills), I've just played the game one inning at a time. And frankly, I feel great about it.
I think of the guys (and of course women and children) who died from the AIDS crisis, and all I can hear is their voices inside my head. "Kiddo…" (See? They call me that, too) "You have bupkis to complain about." And it's true. I was 26 when I was diagnosed; I just turned 51. I'm a Golden Girl. And I still have my 30-inch waist that I had in college and I still work out about 4 (OK, three) times a week, like I have for the past 32 years (longer than HIV!). I have the best, hands-down, husband of 13 years in the whole friggin' world. I have great friends whom I profoundly love, and I feel their love toward me, especially when I really need it. I love my work, which is not something everyone can say, and I love that my work is often helping other gay men to learn to enjoy theirs. I strive to reach my full potential (creatively, as I've just written a full-length musical play), physically (I have a great trainer who makes me feel great at every workout), and spiritually (I'm a secular humanist and yet I see the divine in everything).
There isn't much "advice" in this blog, I admit. I'll write more things shortly that hopefully are both educational and encouraging. But for now, I'm celebrating, I'm not complaining. I'm celebrating that I've survived this long. I'm celebrating that I really do believe that people can learn to cope and thrive despite adversity, even when the outcome is not survival. I rejoice, frankly, in the fact that the community of young gay men is now again able to have hot, sweaty, animalistic, condomless sex again, and with PrEP and TasP, and the firm, sound data of its efficacy, it's really OK. Finally. Fucking Finally. Even as a secular humanist, I thank God for Science. Science (medication) kept me alive this long, and Science (Truvada) is helping a new generation thumb their nose and HIV and keep it in its cage where it can't bite us anymore. It's bitten us enough, and enough is enough. I'm sad about the people we lost. That sadness fuels my anger and my determination to fight social injustices where I see them, particularly against people with illnesses and damn sure against gay men. When my friend Fernando Baell died of AIDS in 1996, who was this fiery Latino from Uruguay, I vowed to shed my formerly shy self and speak up more against injustice, because his voice had been silenced. So I take my sadness about those we've lost, and I make it fuel my determination to help others as well as myself. To quote animal rights activist Cleveland Amory, founder of The Fund for Animals, "we speak for those who can't". That's a large part of the work I do every day; I help people to find their voice, find their spirit, to rally and to cope and to have the life they want. What else are we here for? I honor the spirit of those we have lost by living every day in their memory, and they would want me – and ALL of us – to live the living hell out of Life, every day.
It's 25 years of living with (friggin') HIV. And I'm grateful. I'm celebrating just breathing today. I'm not six feet under (yet), I'm still here. And I gotta say, it's fabulous. And often when my emotions are high, I turn to show tunes. I love show tunes. I listen to them. I sing them. Hell, I even write some of my own now, which feels great.  My new musical has 22 of them. So I'll let one of the masters of show tunes take it from here.  To quote Stephen Sondheim:
Somebody crowd me with love.
Somebody force me to care.
Somebody let me come through,
I'll always be there,
As frightened as you,
To help us survive,
Being alive.
Being alive.
Being alive!