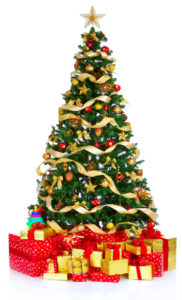 Happy December!  How are those New Year's Resolutions working out for you?
You know, the ones that you had in January, almost a year ago?  Do you remember what they were?  Did you make any?  Did you have goals for this year?  Did you reach those goals?
The other day, I reviewed my Goals List for this year, using a table/grid that I teach many of my clients how to use each December to set goals for the coming year ahead.  I was pleased to just keep checking things off the list – I had accomplished all but one of them, which was very rewarding.  How?  Because I had that Goals List for the year in the first place.  And I devised it last December, which is when I always make my Goals List for the new year, for many years now. 
December is a great time to learn to use it various tools from Cognitive-Behavioral Therapy and from life coaching, two of the techniques (of many) that I use to help my clients meet their goals.  Using a tool like the goals grid "puts your best foot forward" for the new year, and gives you that sense of (my favorite term in my practice, and the name of my book) Self-Empowerment – to face the new year with a positive, fresh, and focused attitude.
But, there's a feeling that "no one" starts therapy in December.  (This isn't really true; I always have *some* new clients in December).  But it can be a slow month for therapists and many "routine" professional service providers, because seemingly everyone is distracted by the holiday season, whether it's year-end work deadlines, holiday shopping, travel plans, or just a certain "nesting" instinct in cooler weather and earlier sunsets (plus all those great mid-season finale episodes and perennial Christmas specials on TV).  Some people also see it as a practical issue: "Oh, I'll just wait til January when the 'new insurance' kicks in."
But the problem with waiting until January is just that: you're waiting to even begin to address goals for the new year once you're already in the new year – which is a little like waiting until you're already on stage in a performance to learn your lines for the first act.  If it's already underway, there is no "prep time" to make a strong start.

Starting therapy in December means that you get to discuss yourself and your goals late in the year, when you have a perspective of what this year has been like for you, since last winter.  The memories of summer seem sometimes freakishly recent ("Where did the time go?").  You're working with fairly routine patterns of work and personal life.  Your deductible has probably already been met for the year on your health insurance, so a PPO health plan would cover more at this point.  And if you're keeping the same insurance plan next year, but you don't know what they reimburse you for therapy, having sessions now and having the PPO process a claim tells you what they will pay in the new year – so you have that information for budgeting (here's a little-known tip:  health insurance companies won't tell you what they will reimburse you for therapy until you actually have a session and submit a claim to them for processing; you can't just call them up and ask, contrary to widespread belief; they keep what they reimburse a secret until then, considering it a "trade secret").
Consulting a therapist in December also lets you plan for any family visits that you're anticipating for the holidays. Having therapy beforehand helps you talk out, or even role-play, something serious that you have to discuss with parents or other relatives.  I've worked with clients who "come out" at Christmas time during an in-person visit to their parents and family-of-origin.  Older clients have prepared in session for discussions with aging parents about any end-of-life care or wishes.  Couples have discussed how they need to approach covering themselves in the new year, such as establishing a will or trust, and discussing the emotional aspects of this (I can refer to LGBT-friendly attorneys for the legal aspects).  Clients who are panicking (often appropriately) about their under-funded retirement make a plan for long-term savings, starting every month in the new year (I can also refer you to LGBT-savvy financial planners).  Clients working on their careers can develop some plans in December for what they need to start implementing in January, oftentimes a strategy for finding a better job, going back to school, or developing a personal networking and self-marketing plan (especially creative professionals or small business owners).  In some years, coping with new upcoming tax laws can be a source of anxiety, and this requires a "game plan" to cope with that anxiety.

And there is also the Goals List for the new year, which is the grid/table form that I "invented" that I use for myself and teach my clients.  This gives clients a sense of self-empowerment to take control of many aspects of their lives, and approach the new year not just with "new year's resolutions" but actual objective, measurable goals.  There's a big difference there.  I think without some sort of reference tool and some sort of healthy accountability for small goals along the way, the bigger goals don't tend to happen.  While therapy can serve many functions, in my style (Cognitive-Behavioral) of therapy, having a weekly session can keep you focused on behavioral accomplishments in small, more-easily-achievable steps (such as with Coaching models).  It's not like a "having a boss"-type of accountability; it's more like having a weekly dose of support and someone in your corner as you try to adopt new thoughts/behaviors/actions and change old patterns.

"But I don't have time":  If you have time to watch "Dr. Seuss' How the Grinch Stole Christmas" for the umpteenth time, you have time to take control of your life.  Even just a few sessions makes the difference when the "curtain goes up" on the new year.
"But December is so expensive":  So is facing a new year in a few weeks without your "head on straight".  Wasted focus is wasted time, which is wasted money.  There's a difference between spending in a way that is "impulse buying" at a store with tempting holiday items (Bed, Bath & Beyond, anyone?) and making a serious investment in yourself for your future that doesn't need batteries, break, or go out of style. 
"But I'm traveling and enjoying time off":  This is a great self-care plan, and probably a well-deserved break after a busy year working.  But with extra time off, balancing recreation (like seeing friends, enjoying hobbies, and getting more rest) can be mixed with doing some meaningful consultive work with a therapist/coach, so that you can make the most both of your year-end down-time, and make the most of the upcoming year ahead, in all areas of life:  socially, professionally, financially, physically, even spiritually.  Learn to leave behind the limitations that held you back this year and start the new year fresh, and use some down time to really get in touch with who you are and what's important to you outside of the usual work routine.
Self-empowerment helps you close the gap between how life is, and how you would like it to be.  What better time to look at this construct, than at the end of one year and the beginning of another?  It can't fit in a stocking, but getting started with a therapist in December can be just the right gift for that special someone in your life:  yourself.

***************************************************************************************************************************
Ken Howard, LCSW, is a gay and poz (27 years) therapist who has specialized in working with gay men, both individuals and couples, for over 25 years, and can help you improve one or more domains of life, from mental health to career, finances, relationships, health, or social life. 
For help with these, or other challenges, consider sessions with Ken for counseling, coaching, or therapy sessions, at the office in LA (near Beverly Center), or via phone, or via Skype, anywhere in the world.  Call 310-339-5778 or email Ken@GayTherapyLA.com for more information.
Ken is also available for expert witness work on gay issues, HIV issues, and issues concerning psychiatric illness or disability, as well as consulting for  non-profit organizations, corporations, college campuses, and speaking at conferences. 
To get your copy of his 2013 self-help book, Self-Empowerment: Have the Life You Want!, click here.  It's your "portable therapist" for the challenges you face today in your mental health, health, career, finances, family, spirituality, and community.