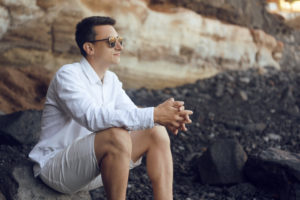 Gay Men Coping with Single Life: Tips and Tricks
At the time of this writing in April, 2020, we are in the midst of the global COVID-19/coronavirus crisis and there are "lockdown"/quarantine conditions all over the world.  I am continuing to provide both therapy or coaching services to my clients who live locally to the greater Los Angeles/West Hollywood area, as well as across the country, and around the world.  I've noticed a striking pattern emerging over the course of the past couple of months:  guys who are single, wherever they are, are having a harder time coping than those who are partnered or married.  And isn't that just the thing with life in general?  There is a saying: company doubles our joys and divides our sorrows.  Various research has shown that people who are partnered or married have overall longer life expectancies and health histories.
So when a regular reader from San Diego (you know who you are, "R") sent me a note asking me to address tips on many aspects of life for single life for gay men, I wanted to respond.  Here are tips for these twelve areas of life, based on how I've seen my single clients over the years thrive, and even my own experience as a long-time single adult gay male for almost 20 years in Los Angeles.
Creating a Home – The inspiring New Age author and speaker Louise L. Hay used to talk about how our home is a reflection of us. Having decorative objects surround us that remind us of happy times (such as vacation souvenirs, or family heirlooms) can be a continuous mood boost.  Hay used to recommend trying to find spaces that gave lots of natural light.  Choices in décor (what we can afford, anyway) help express externally who we are, and our likes and dislikes internally (even politically; in my home, I don't display any heterosexual images, except for photos of family members, as a protest against widespread heterosexism in our society).  For more on gay men making their house have a sense of home, see my previous article, here.  We make our home as single guys first, so that when we have dates over, we are telling them who we are by what we create our space to be.
Managing Finances – I've written other articles about gay men and finances (such as here). Unfortunately, financial planners tend to focus on wealthier couples (two incomes are better than one, for them), but managing your finances as a single gay man is important, because you don't know how long you might be single.  When you're single, all the burdens of costs fall on you; there is no "sharing the burden" if you need a household repair, for example.  This makes the stakes higher and a stronger demand for careful budgeting, since you're relying only yourself.  This is why two people can live more cheaply being together rather than two living apart, or even with roommates, because while a roommate might help you share rent/mortgage and utilities, you don't have the building of shared (two-person family) equity that partnered or certainly married gay men have.  Balancing your short-term spending for quality of life with long-term savings, in that you-taking-care-of-you sense, is very important.  Books from financial gurus like Suze Orman (a lesbian, btw) and Jane Bryant Quinn have been enormously helpful to me.  Even when I was young (26), I started contributing to a 401-k at work, providing for myself for eventual retirement (and it would be another 11 years, then, before I met my husband at 37).  We have to challenge this idea that long-term financial planning is only for couples, or (gasp!) only for heterosexuals with children in the suburbs.  (My favorite resource for the young investor is through Vanguard.com, if your current employer doesn't offer a retirement plan already through their Human Resources department.  Saving 10 or 15 percent of your gross income is really critical for long-term financial security.

Building an impressive wardrobe doesn't need to be expensive if you focus on classic staples.

Building a Wardrobe – When my friend "R" suggested this, I was a bit surprised. But he's right. Men's magazines like GQ have occasionally written about the importance of a "basic wardrobe" of high-quality staples of clothing that mix-and-match well, and endure past transient changes in style.  Knowing a set of good work and play shirts, pants, shoes, and accessories (belts, hats, jewelry, watches) can be a sound investment that serves you well over time.  Just like your home décor, your own personal wardrobe is an outward expression of who you are – such as how "gender conforming" you are (or not); what colors or fabrics express your personality; and what personal style you exude (from the artistic, to the conservative, to the edgy, to the theatrical, etc.).  Personally, I love "age-inappropriate" clothing that challenges stereotypes, and I like tight-fitting clothes that motivate me even more in the gym.  Today, now more than ever, people in general and gay men in particular have more latitude on what is "accepted attire", and even if it's not "accepted", wear it anyway.  If you do end up meeting a partner, what you're wearing will already tell him a little about you before you even speak.  (I met my husband at a dance club when I was wearing leather jeans that laced up the sides; later, when I went home with him (that's another story, OK?), the hash marks from the leather laces on those tight pants were still visible on my bare legs, which was both amusing and a harbinger of things to come in the next 18 years (so far) we've been together.)

Grocery Shopping – When you're single and buying food and cooking for one, it can be a challenge. I generally "cooked for two" (or more) and had the same dish for a couple of dinners.  If you don't know how to cook, at least a little bit, learn!  This will not only save you money, but also control the quality of nutrition you get (such as controlling the amount of sodium, carbs, fat, etc. that you are consuming).  It will also be a "selling point" for you in a couple; as they say, "the way to a man's heart is through his stomach."  On a single income, using various discount strategies (coupons, store card clubs) become more important (so you have more money to tip go-go boys at the bars).  Knowing which ingredients are good values is also important (and this goes way beyond things like rice and ramen).  Good shopping skills are good life skills, for both single and partnered life.
Relationship to Family of Origin – As gay men, we have both our Family of Origin and our Family of Choice. Relationships with our families of origin can vary, from being very close to being very distant, if we've been ostracized by anti-gay parents or others.  One mistake I see single gay male clients make is that they can be so "comfortable" with their family of origin (especially in Latino cultures, but others as well) that the time and focus spent on parents or even siblings can eclipse time making yourself available and "putting yourself out there" to other single gay men who could become eventual partners.  This is a life management, or time management, skill.  If you like seeing your family in your free time (if they live locally, especially), that's great, but you have to balance that with spending some free time in locations or activities that might offer the opportunity for what I call "peer socialization".  Guys can't date you if they don't know you exist, out in the world.  (However, this is assuming that meeting potential dates is important to you; we certainly have to challenge this notion that a gay man (or anyone!) is not "complete" without a partner or spouse; straight women get this "message" all the time (such as those "Disney princess" movies), and we have to challenge the societal notion of "partnered privilege" as the only legitimate way to live.  Being single indefinitely, or even forever, is not a second-rate way of life, and yet I find myself challenging clients on this often, who feel that they have "failed" at life because they either just are, or choose to be, single.)  Some very successful-at-life gay men live very robustly through a combination of family of origin and family or choice interaction, while remaining single in the long term.

Gift-giving for single gay men can be a hidden burden on your budget.

Gift-Giving to Friends and Family – My friend "R" also brought this up, and I think it's important. When you're single, you might buy gifts for birthdays, anniversaries, and the holiday season (Christmas, Hanukah, etc.) for individual family members, only to receive joint or group gifts in return.  You give your brother, his wife, and their two kids individual birthday and holiday gifts throughout the year, but you get one gift from all of them back.  If you're single, young, and on a limited budget, this can be a hardship on your post-college, entry-level salary budget.  You might have to "negotiate" how your family of origin handles this, to recognize the obvious imbalance. Same thing with friends; you might be very close to friends, but you might not be able to attend expensive "group birthday dinners" where everyone splits the bill equally, no matter who-ordered-what.  I sometimes teach assertive communication skills to clients on how to stick to their "gifts budget" without over-extending themselves.  Find alternative ways to celebrate family or friend events, because as a single guy, it just might not be feasible to meet all the gift-giving obligations in the course of the year unless your income can really provide for that.

Entertaining at Home – Just like your home décor, it's important to try to find ways that make living alone (or with roommates) not so isolated. Even if you can't afford a large space (as many urban, young, single, gay men cannot), you might be able to have a few friends at a time over to watch something on TV or play games.  In this way, not only do you offer your unique personality as a resource for your friends (or even dates), but you also offer your home.  They get to see more of the "real you", in your native environment.  This helps support the mutual, rewarding, interpersonal relationships that we all need, and that gay men tend to thrive on in our families of choice.  If you can't afford professionally-catered parties, think of low-cost snacks for TV or game night from warehouse stores, or even suggest a fabulously-themed pot luck.
Planning and Budgeting Travel – When I was much younger and single, traveling along or with friends became an art form. I made relatively little, but I still had a young man's wanderlust and thirst for adventure to see and do things in the world.  As with financial planning (above), try to design your career and budget with at least some recreational travel in mind, including at times traveling alone, which can feel very adventuresome.  You could even have a separate "travel budget" savings account at a bank (or investment firm) and make regular online contributions toward it, which is easy to do with online banking and account transfers (maybe like 3 percent of your weekly take-home pay).
Dating – There are dozens of books for single gay men about dating, and I have written other articles about his extensively, such as my "six lights theory" of dating, here. As a single gay man, I think you have to allot the free time you have like the slices of a pie:  how much do you allocate for seeing family of origin?  How much for seeing peer friends?  How much for activities for self-care that you do for yourself (gym, yoga, running, expressing yourself artistically, chill time, video games, etc.)?  And, of course, how much to getting your sexual needs met through hooking up, or after a date where you have dinner, see a movie/concert/play, go on a hike, visit a museum, etc.?  If you want a partner and you find yourself not dating, get busy.  Master the art of the online profile.  Engage in activities where gay men congregate, perhaps beyond bars/clubs.  Make a study of dating skills, such as talking, listening (which is key), and being your authentic self, while at the same time being courteous enough to be you, but at your best (your endearing flaws inevitably will become obvious over time with this person).
Friendships – We don't want peer, platonic friendships to be the chronic "consolation prize" for not having a partner. Many gay men (including me, at the time) might have unconscious reasons for not wanting to partner (such as fearing a loss of our autonomy, or not wanting to repeat our parents' dysfunctional relationship we witnessed growing up).  We might have "core schema" (as therapists say) beliefs that we are unworthy of love, or having "nothing" to offer a partner, so we spare others by keeping ourselves chronically single.  We might even hang out with straight guys, straight women, or lesbians to avoid any possibility that a platonic gay male friend could lead to more.  We might avoid dating because we have unresolved trauma related to past sexual abuse or sexual assault experiences, and we "keep ourselves safe" by staying single for good.  Therapy can help uncover your unconscious resistances and make your choices more deliberate, conscious, and authentic to what you really want.  Friendships, though, can be a form of romance in itself, such as the "bromance" – it's not domestic or sexual (necessarily), but it's a form of love that we all need, including after we meet a partner or spouse.  Legendary couples therapist Esther Perel, LMFT (search her on YouTube) speaks of how we all put too much pressure on a partner or spouse to be our "everything" in one person: confidant, playmate, roommate, sexual partner, colleague, sounding board, and sparring partner, and we live twice as long as other historical periods.  This can be too much.  Friendships are at least in part a component of comprehensive Quality of Life that lives apart from our romantic relationship status.  Much of my work with gay men surrounds how to cultivate, maintain, and certainly troubleshoot relationships that are strictly platonic.  Urban centers that often offer tolerance or even celebration of diversity and LGBT life can also be crowded, busy, expensive places where it's difficult to make friends when it takes over an hour to get where they are to socialize, or where the local culture (like Los Angeles) is clique-ish and very difficult to penetrate established circles of guarded, competitive, or even elitist friends who are wary of accepting new members.

The role of sex for single gay men is going to be different for every guy — and that's OK.

Sex – When you don't have a regular, live-in partner who offers sex at the ready at all times (although this is largely a myth, actually), getting your natural sexual needs met is an art form. Hooking up in ways that don't compromise your physical health, emotional health, or even physical/emotional safety can be challenging. Our apps and websites lifestyle is at best problematic and at worst demoralizing.  But we wouldn't have gone through the difficulty of coming out, and challenging the dominant, default heterosexist social paradigm that we are pressured to conform to since birth, if we didn't honor what Mother Nature gives us as our natural desire and primal need for sexual gratification in the ways that work for us and our particular arousal makeup.  As a trained sex therapist, I work with these ideas all time, helping gay male clients bridge the gap between the kind of sexual life they have, and the kind of sexual life they really want, be it frequency, type, duration, function, location, or partner they want it with.  Getting your sexual needs met is a combination of profoundly knowing and accepting yourself, and asserting that to partners who are buying what you're selling in a sexual relationship, whether for twenty minutes or a lifetime.  Troubleshooting emotional, physical, or social hang-ups about sexual encounters and functioning is a large percentage of what I do in therapy or coaching for gay men across the world, because sexuality is one of the greatest human common denominators for all of us, but so are the related anxieties.  It's important to ask yourself what kind of role do you want for your sexuality and its expression as a single gay man, according to your desires, your values, your culture, your opportunities, and your resources of when, where, and with whom it will be.

Existential Meaning: Will I Always Be Single? – When I work with single gay men, they almost always want to discuss the existential state of being single, especially if they are single, but they want to be partnered or married. They might even want to be gay dads.  They want a certain ideal of companionship, sexuality, work, play, and an even combination of domestic familiarity and comfort along with spontaneity and variety that lasts a lifetime.  It's a big item on the Wish List for Santa Claus to bring you.  And sometimes, often even, it works out.  But it's a combination of your efforts, right now and then sustained in the future, plus the efforts of others, in reasonably equal measures.  And while we can certainly identify the thoughts, feelings, and especially behaviors that create an environment where long-lasting, loving domestic relationships can happen, we still rely on a certain amount of serendipity, luck, or even Fate of whether or not that happens for us at all, or when.  It takes an enormous amount of patience.  And yet what a waste of precious life-minutes, hours, or years if we only declare that we can be happy if we are not single, and not who we are in this moment.  That's kicking the can of happiness down the road, or always around the next corner, and that's a tragic squandering of time in life that many people who are terminally ill would love to have had.  We have to make existential meaning our lives, and quality of life, regardless of whether we are single or not, and whether we like it or not.  Ironically, learning to live our best life single will paradoxically make us vibrant, happy, involved, active, attractive people that other people want to partner with.  And whether we meet someone today, tomorrow, next week, or never, we remember that Life itself is a gift, and what we do with it is our gift back to Life.
Ken Howard, MSW, LCSW has been a specialist in working almost exclusively in therapy for  gay men and gay male couples for over 28 years as the founder and director of GayTherapyLA.com.  He has lived with HIV for 30 years, and is also an adjunct associate professor of clinical social work practice at the University of Southern California.  If you'd like more specific help for your individual challenges, please consider therapy or coaching.  You can get more information by calling or texting 310-339-5778, or emailing Ken@GayTherapyLA.com.  GayTherapyLA.com has several staff to help at varied fee levels and schedules, and offers online services to anywhere in the world. We would be happy to help.